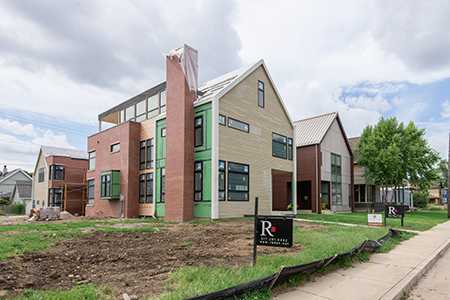 A growing number of pricey new homes are cropping up in the historic Herron-Morton neighborhood, bolstered by the strength of the downtown housing market and the rejuvenation of East 16th Street.
Herron-Morton, whose southern border is 16th Street, once boasted many of the city's most elite residents. But like several other areas surrounding downtown making a comeback today, the automobile and the allure of the suburbs caused Herron-Morton to fall into neglect. Many of the homes were either carved up into apartments or demolished.
Now, Herron-Morton is in the midst of a rejuvenation perhaps best exemplified by a $1.3 million house under construction at 1638 N. New Jersey St.
"The infill activity is really strong," said Steven Meyer, executive director of the King Park Development Corp., whose oversight includes Herron-Morton. "It's a neighborhood that's benefiting from strong neighborhoods on both sides of it, and the revitalization of East 16th Street as a commercial corridor."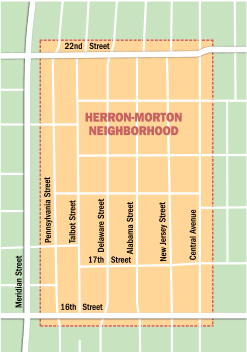 The Old North Side, with its large historic homes nestled between downtown and Herron-Morton, regained its appeal after falling out of favor in the mid-20th century. Just north of Herron-Morton, Fall Creek Place is a much more recent success story born from a city initiative to bulldoze entire blocks for residential redevelopment.
Herron-Morton finally is reaping the rewards of being between the two neighborhoods; more new-home construction is spilling into its boundaries. The neighborhood is bordered by East 16th Street on the south, East 22nd Street on the north, Central Avenue on the east and North Pennsylvania Street on the west.
The revitalization of pockets all along East 16th Street is also contributing to Herron-Morton's success.
Originally called Tinker Street, the east-west thoroughfare now boasts a restaurant of the same name operated by Peter George and Thomas Main at the northeast corner of East 16th and New Jersey streets. The two are planning to open a Mexican eatery to the east, at 1217 E. 16th St.
That's about a block east of TWG Development LLC's conversion of the former Gleaners Food Bank site into 145 apartments and King Park Development Corp.'s redevelopment of the old Tinker Flats building. There, Hotel Tango Whiskey—which operates at 702 Virginia Ave.—will open a production facility by the end of the year. Retail space is also planned for the building.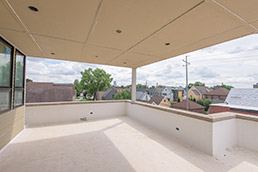 The Re-Development Group has constructed several homes in the neighborhood and has just a few lots left in the area. (IBJ photo/Eric Learned)
That activity, and the pending opening of Cannon Ball Brewing Co. at 1702 Bellefontaine St., is occurring east of Herron-Morton but close enough to benefit the neighborhood.
"The amount of food service and retail amenities, the increase in [primary] education options—all of that stuff has exploded in the last three years," said Mark Nottingham.
He has operated Nottingham Realty Group on East 16th between Alabama and Delaware streets since 2012 and now is building a home on a vacant lot in Herron-Morton on New Jersey Street.
Nottingham had lived with his wife and son in Fall Creek Place but decided to sell their home to live in the same neighborhood where he works. Nottingham declined to divulge the price of his house soon to be under construction but said the average for a new build in Herron-Morton now runs about $800,000.
"It's a really neat mixture, particularly on New Jersey Street," he said. "There are a number of gorgeous Victorian homes that have been renovated or stabilized to maintain that old feel. Then there are new homes that have been built in the traditional style. And then there are new homes built more in a modern architectural style."
From 19th to 22nd streets, New Jersey sports original esplanades that provide the best example of what the northern half of the neighborhood looked like when it was built in the 1890s.
Herron-Morton contains 280 lots and is named for the John Herron Art Institute building—now Herron High School—at East 16th and Pennsylvania streets and for former Gov. Oliver Perry Morton. Camp Morton served as an induction center for Indiana volunteers and troop training during the Civil War and later became a Confederate prisoner of war camp.
Today, The Re-Development Group Inc. is helping to transform the neighborhood by building homes there. The custom-home builder is active in the Holy Cross neighborhood, east of downtown, and built its first home in Herron-Morton, on Alabama Street, in 2004.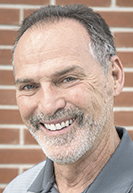 Dubach
"We did it on speculation because it was like a football field there," firm President Patrick Dubach said, recalling the area's emptiness.
Dubach since has purchased a few dozen lots in the neighborhood and has just two undeveloped (both spoken for), after the two homes his company is constructing now.
One is the $1.3 million residence on New Jersey and the other is a $575,000 home on the same street.
One of the more unique features of the more expensive home is an underground connector from the main residence to a carriage house. The three-story home also boasts an elevator and metal roofing, which would have been unheard of 10 years ago.
Dubach recalled attending a meeting in 2004 hosted by Ball State University that addressed the vision for East 16th Street. At the time, it seemed "pie in the sky," he said, "but now it's really happening."
It's taken years, but Dubach figured the lots he purchased in Herron-Morton eventually would fill in with new homes, given the success of Fall Creek Place. Now, though, his Re-Development Group is preparing to exit the neighborhood in search of the next opportunity.
The reason: Remaining lots in Herron-Morton are becoming too expensive for Dubach's liking.•
Please enable JavaScript to view this content.