Realtor Joe Shoemaker, broker at Encore Sotheby's International Realty, spends most of his days—as one would expect—studying home interiors and exteriors. That's why he opted for a minimalist approach when he constructed his Fletcher Place abode. It's just more restful that way.

"I'm a real estate professional, so I look at houses all day, every day," Shoemaker said. "After a day of that, I'm exhausted. So I really wanted my house to be invisible on the inside."

The two-story, approximately 2,400-square-foot modernist dwelling isn't literally invisible. However, its monochromatic white interior, custom cabinetry and storage units that conceal everything from electronics to kitchen gadgetry, and pristine silence (thanks to heavy insulation) certainly don't overwhelm and distract.
Indeed, the only accessory that clashes with Shoemaker's minimalist theme is his black Scottie dog, Max.

He built the house last year on a 33-foot-wide, 155-foot-deep lot he found, after much searching, in Fletcher Place. Though the metal-roofed, brick-and-cedar exterior is unapologetically modern, it nevertheless fits in well with the old-school homes surrounding it.

"This house is very modern and stark, but you could drive by and miss it," Shoemaker said. "It's not taller than the other houses, and it's not closer to the street. The scale and proportions are not out of place for the neighborhood."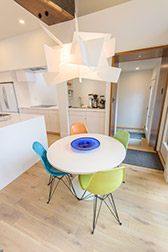 The only pops of color in the kitchen and dining area come from the modern chairs and single ceiling beam cut from live-edge Indiana walnut and held in place by heavy iron bolts. (IBJ photo/Eric Learned)
The interior is a different story altogether. The first floor is dominated by a great room fusing the dining area, kitchen and living room. Custom-built cabinetry conceals pretty much everything, with the only color provided by a single ceiling beam cut from live-edge Indiana walnut and held in place by heavy iron bolts.

Originally, Shoemaker planned to display some of his prodigious art collection in the great room. He reconsidered, however, fearing it would disrupt the space's monochromatic aesthetic. He even removed a shelving unit in the dining area because he felt it made the space look too busy.

"I want my house to be visually quiet," he said. "It's forced me to eliminate clutter and bookshelves full of chachkies. If I could hide everything and live in a square box, I'd do it."

The first floor also includes a guest bedroom and bath. A stairway near the kitchen leads to the basement which, when finished, will sport black tile floors and a dark paint job reminiscent of a Las Vegas spa Shoemaker likes. It will also offer another guest bed and bath, and perhaps serve as home for some of his art.

The back yard includes a two-car garage with workshop, and a postage-stamp-size bit of grass where Max can do his business. Shoemaker reckons it takes him eight minutes to mow the entire lawn, front and back.

The home's second floor, reached by steps made from a wood product composed of bonded scrap lumber, features the master suite. Just as white-intensive as the first floor, it offers a closet accessed by four opaque glass sliding doors and a "wet bathroom" featuring a wall-less shower.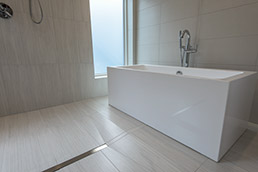 Shoemaker aimed for "visually quiet" when he chose the finishes for his bath and the decorating throughout the rest of his home. "If I could hide everything and live in a square box, I'd do it," he said. (IBJ photo/Eric Learned)
Construction began in January of 2015 and concluded in February of this year. Shoemaker, who used One 10 Studio Architects for the design, ended up serving as de facto site supervisor during construction. It turns out there was plenty to keep track of.

"I originally intended for the materials and finishes and sizes to be very off-the-shelf and standard, but as the project moved forward it became full custom," he said. "There's nothing in this house that's off the shelf."

Though the home looks like the retreat of a solitary aesthete, Shoemaker said it's constructed to be livable as well—a good thing, since his girlfriend, two grown children, one grandchild, and parents regularly visit.

"This is my happy place," he said. "This is my quiet zone."•