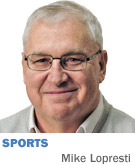 The college football season is here. Are the quarterbacks ready? The special teams? How about the tuba sections?

This weekend begins the road to Tampa, site of the national championship game. Not to mention the road to Albuquerque, Boca Raton, San Antonio and all the rest of the blizzard of bowls. Put it this way: 80 teams will play in the 40 postseason bowl games, or 62.5 percent of all Football Bowl Subdivision schools. If basketball made room for the same percentage, 219 teams would be in the postseason. Imagine your office-pool bracket.

No matter, everyone is chasing Alabama's Nick Saban, anyway. He is the Usain Bolt of college football coaching, with four national championships the past seven seasons at Alabama. That's more than the Big Ten has won in 47 years.

Meanwhile, in this state, many of the coaches have had to answer the same question: Who's the starting quarterback? Darrell Hazell at Purdue and Kevin Wilson at Indiana heard that, certainly. Notre Dame's Brian Kelly, too, though he has been getting a second query lately: Anyone arrested today?

With the curtain going up next weekend, we can start the final countdown to the season.

10 … Approximate miles that the defenses of Purdue, Indiana and Ball State allowed last season combined. To be exact, 18,339 yards. They were ranked Nos. 110, 120 and 121, respectively, in total defense in the nation. There was no D in the state of Iniana. Not so coincidentally, their combined record was 11-26.

9 ... Years since either Indiana or Purdue had a winning regular-season record. The SEC West, this isn't.

8 ... Miles between Michigan and Eastern Michigan universities. Michigan led the nation last year in attendance, at 110,168 fans a game. Just down the road, Eastern Michigan was 128th and last, at 4,897. While we're counting empty seats, Ball State was next to last, at 7,974. Hoping to do something about that is Mike Neu, who passed for a school record 469 yards in a game for the Cardinals in 1993. Now he's the new head coach.

7 ... The jersey number of Brigham Young University quarterback Taysom Hill, to honor his brother Dexter, who died from opiate addiction. One other thing about Hill: He is 26 years old, and only 11 months younger than Andrew Luck.

6 ... Starters returning for Ohio State. The Buckeyes are Nos. 5 and 6 in the two major preseason polls, anyway, which says something about the voters' force of habit, or else their high regard for Urban Meyer's recruiting abilities. Another Meyer stat to remember: He's 18-0 on the road during the regular season with the Buckeyes, but this season has trips to Oklahoma, Wisconsin and Michigan State.

5 ... Purdue is Nebraska's fifth home game this season, meaning the Boilermakers will be the 352nd consecutive sellout for the Cornhuskers, going back to October 1962. Gas cost 28 cents a gallon then, and tuition at Harvard was $1,520. Ten U.S. presidents ago. But reports from Lincoln are that it's getting tougher to fill the seats. As it is, on game day, Memorial Stadium is the third-largest city in Nebraska.

4 … The combined margin of Notre Dame's two regular-season defeats last season. The Irish were that close to being a playoff team from the state of Indiana, though calling Notre Dame an Indiana school is a bit of a stretch. The roster looks like the parking lot at Disney World, with 30 states represented.

3 ... Purdue victories against FBS opponents the past three seasons. As in 3-30. Sigh. It's not that the Boilermakers haven't tried everything. They went for it on fourth down 44 times last season, more than any team in the nation, converting on 24 of them. Sound quarterback play would help, which brings us to David Blough, the fourth opening-game starter in that position in four years.

2 ... Victories this century for Indiana over Michigan, Michigan State and Ohio State—to go with 34 losses. We might have spotted a trend here. And still, the Hoosiers have been scaring them lately, forcing Michigan to two overtimes last season and chasing Ohio State to the last play. One day, the upset happens, right?

"Right now, we're at a deal where it's not moral victories," Wilson said over the summer. "I think our team realizes that when we play and play hard and play well and play as a team, we can match up and have a shot."

Oct. 1 at home against Michigan State, maybe?

1 ... Career touchdown passes by the entire Indiana quarterbacking corps. The departed Nate Sudfeld had 61. The good news is that, in Wilson's tenure, the offense has usually been entertaining to watch no matter the quarterback, scoring 35 or more points in 24 games. The bad news is, they've lost 11 of those 24 games. Which is why new Defensive Coordinator Tom Allen—who once coached at Ben Davis—has so much on his plate it looks like he just went through a buffet line.

Oh, and one other item on the Hoosiers' to-do list: 111 FBS schools have won a bowl game since Indiana's last postseason victory, in 1991.

Blastoff. Or make that kickoff.•

__________

Lopresti is a lifelong resident of Richmond and a graduate of Ball State University. He was a columnist for USA Today and Gannett newspapers for 31 years; he covered 34 Final Fours, 30 Super Bowls, 32 World Series and 16 Olympics. His column appears weekly. He can be reached at mlopresti@ibj.com.