Broad Ripple Chip Co. is quickly peeling away from its small-potato beginnings.

The manufacturer of gourmet potato chips is on track in 2016 to surpass $250,000 in revenue, quadrupling the figure from two years ago, when its bags of snacks began appearing in local outlets.

Now with the help of two local distributors, the company is branching out across Indiana and into Ohio to introduce its original and sweet and spicy flavors to a broader audience.

"In 2014, we had 10 customers, and we weren't in any grocery stores at all," owner Mark McSweeney, 58, recalled. "It took a year to get into Kroger and Marsh, and then when we got more well-known, people started calling us."

Fresh Thyme Farmers Market came courting and, in the spring, began buying bags to stock stores in Fort Wayne, Lafayette and Terre Haute, in addition to the Indianapolis locations, where the chips already had a presence.

In September, Broad Ripple Chip Co. will take its biggest leap yet by distributing to about a dozen Fresh Thyme outposts in Cincinnati, Columbus and Dayton, as well as seven Market District groceries in Cleveland and Columbus. Kroger supermarkets in Cincinnati also are in the offing.

"Every time Fresh Thyme opens a store, that helps," McSweeney said. "Every time Kroger remodels a store, sales go up."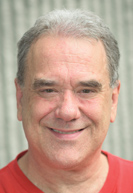 McSweeney
McSweeney even found an ally in Alton Brown, creator and host of the Food Network's "Good Eats" television show. During a swing through Indianapolis in November 2014, Brown wrote in a blog post that he bought a bag not knowing what to expect.

"I am kicking myself for not picking up five bags, as I finished these in a 10-minute sitting," he said. "Fried to a crunchy crisp and seasoned perfectly, they were so good."

The chips fly off the shelves the fastest, McSweeney said, at the 120,000-square-foot Market District store in The Bridges development in Carmel that opened in October.

That's quite a stretch from McSweeney's humble beginnings selling to area brewpubs and microbreweries such as Books & Brews, Deviate Brewing and Sun King Brewing Co.

"We roll through them pretty fast," Sun King co-founder Clay Robinson said.

That success is helping Broad Ripple Chip Co. capture a sliver of a gigantic market that's dominated by Frito-Lay but includes smaller, regional players. Americans spend $9 billion a year on potato chips, according to the Arlington, Virginia-based Snack Food Association.

In the beginning, Broad Ripple Chip Co. self-delivered to stops around the city such as Pogue's Run Grocer, on East 10th Street near Rural Street, and Safeway in the Butler-Tarkington neighborhood.

Deals with the Indianapolis-based Ideal Meat and Tiny Footprint Distribution, an arm of Green BEAN Delivery, are getting the chips into the other markets.

"We feel like the Broad Ripple Chip Co. is a hot local item that can break out of central Indiana, so that's what we're doing for them," said Chris Canal, a business development manager at Ideal Meat.

Ideal Meat is the primary distributor for the St. Elmo Steak House cocktail sauce. The potato chips are proving just as popular.



"The Broad Ripple chips kind of have the same pizazz," Canal said. "I've never met anyone who doesn't like them."

McSweeney and his six employees—three full time and three part time—fry and bag their chips from a non-descript strip center at Binford Boulevard and East 62nd Street. The company shares space with McSweeney's other business, a franchise of Great Harvest Bread Co.

Great Harvest had a retail outlet in Broad Ripple until McSweeney became ill in 2006 and received a kidney from a cousin two years later. He rejected the kidney, however, and received a second transplant in 2010.

His Great Harvest franchise now provides bread strictly on a wholesale basis, from the East 62nd Street location. Figuring he could do more with the space, he began experimenting with making potato chips.

McSweeney started with one fryer and has graduated to seven. He buys about 3,000 pounds of potatoes a week, equating to 800 pounds of chips. While frying, the chips constantly need to be stirred by hand, McSweeney said, "Otherwise, they stick together."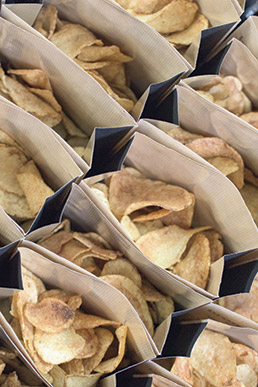 Bags are Broad Ripple Chip Co.'s biggest production cost, at 15 cents apiece. McSweeney is switching to a supplier that charges only 11 cents a bag. (IBJ photo/Eric Learned)
Slicing the potatoes is tedious work. The low-power slicer can handle six potatoes at a time, producing 200 pounds an hour. McSweeney is considering investing in a higher-powered model that can cut 800 pounds an hour, especially if the company keeps growing.

His goal is to capitalize on the fresh-ingredient, buy-local movement. The chips are dusted with salt, garlic, sugar and a spice blend that the company does not reveal; they come packaged in a brown paper sack that resembles a lunch bag.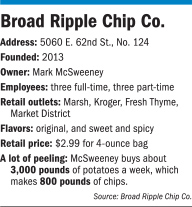 A 4-ounce bag typically retails for $2.99. One of McSweeney's biggest costs is the bags themselves, which run him 15 cents each. He's found a supplier that charges 11 cents a bag, "so that will save some money," he said.

Within the past two months, he's begun offering the chips in a 1-ounce sample size that can be given as gifts to guests at weddings and other events. Those are bagged by hand instead of machine, making the process very labor-intensive, he said.

The company also sells bulk bags for restaurants. Those customers include Rail Epicurean Market in Westfield, 1913 Restaurant in the Omni Severin hotel downtown, and Heady Hollow Brewing Co. in Fishers.

McSweeney in March introduced the sweet and spicy flavor created by his two sons and might introduce a third flavor in a year or so. But for now, he's concentrating more on growth.

Following the entry into Ohio, Chicago could be McSweeney's next target.

"I don't know quite what to expect," he said. "It just depends where distributors would take us and whether we can scale to demand."•