Two of the largest office buildings in downtown Indianapolis have been sold as part of a $416.9 million, four-building acquisition by Hertz Investment Group, the company announced Monday morning.
The Salesforce Tower and Circle Building contain 1.2 million square feet of space. (Image courtesy Hertz Investment Group)
Salesforce Tower & Circle Building (formerly known as Chase Tower and Bank One Tower) and the PNC Center were part of a 3.1-million-square-foot package, Santa Monica, California-based Hertz said.
IBJ reported in January that the two buildings were being marketed by Chicago-based Equity Commonwealth, which wanted to unload them as part of a larger plan to exit secondary markets across the country.
The 48-story, 1.12-million-square-foot Salesforce Tower, opened in 1990, is the tallest building in Indiana and 44th-tallest in the United States. The 12-story Circle Building portion of the property faces Monument Circle. The property is about 84-percent occupied.
Salesforce Tower received its latest name earlier this year after San Francisco-based tech giant Salesforce established its regional headquarters in the building.
Other major tenants include JP Morgan Chase, Ernst & Young and Bose McKinney & Evans.
The 635,078-square-foot PNC Center at 101 W. Washington St. consists of two 16-story towers connected by an atrium. The center is the fourth-largest office complex downtown.
Major tenants in that property, built in 1977, include PNC Bank, Kronos, and Veolia Water North America. Hertz said the building is 94-percent leased.
The PNC Center also houses the Hyatt Regency Indianapolis hotel, but that space is owned separately.
Also acquired by Hertz in the four-building package was the 873,335-square-foot, 19-story North Point Office Complex in Cleveland and the 435,629-square-foot, 35-story 100 East Wisconsin building in Milwaukee.
Hertz said the four buildings combined are 85 percent leased.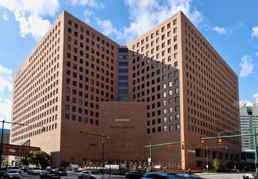 The PNC Center is downtown's fourth-largest office complex. (Image courtesy Hertz Investment Group)
The individual cost of each building was not disclosed by Hertz. Equity Commonwealth paid $201 million for the Salesforce Tower alone in 2012.
"One of Hertz's primary growth strategies has been to acquire best-of-class office buildings in the central business districts of mid-sized markets, and we feel very fortunate to include four such properties in one deal," Hertz Chairman Judah Hertz said in a written statement that described the acquisition as Hertz's largest to date. "What's critical is that we remained true to our acquisition strategy and followed our sound financial objectives."
Hertz is no stranger to the downtown Indianapolis market. It owns the 650,000-square-foot Capital Center at 201 and 205 N. Illinois St., which it acquired in 2013.
It previously owned Market Square Center at 151 N. Delaware St., commonly known as the "Gold Building," and Two Market Square at 251 E. Ohio St.
Those buildings were acquired out of receivership in June by Kansas City, Missouri-based Mission Peak Capital after Hertz defaulted on a $28.5 million loan in 2014.
Hertz said it now owns 65 buildings in 22 cities in 17 states totaling 21.7 million square feet.
Please enable JavaScript to view this content.