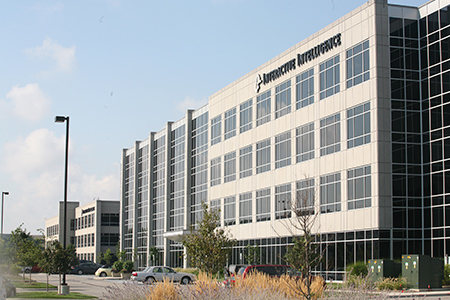 Genesys Telecommunications Laboratories Inc. announced Wednesday it has agreed to acquire Indianapolis-based competitor Interactive Intelligence Group Inc. for $1.4 billion.
Interactive Intelligence shareholders will receive $60.50 per share in cash, which is a premium of 36 percent over the company's closing stock price on July 28. That's the day before word leaked the deal was in the works.
The deal is the second-largest technology company sale in Indiana history, topped only by San Francisco-based Salesforce.com's $2.5 billion purchase of ExactTarget Inc. in 2013.
Both Interactive and Genesys make call-center software. Privately held Genesys, which is based near San Francisco, said it plans to continue offering products from both companies with "significant R&D investment across the full product portfolio."
Interactive Intelligence was co-founded and is led by serial entrepreneur Don Brown, who told IBJ Wednesday morning that he does not plan to stay on after the deal's closing late this year.
Brown said he and Genesys CEO Paul Segre have discussing merging "off and on for years," but talks gained traction earlier this summer. One element that made the timing right this go-round was the maturity of Interactive Intelligence's Pure Cloud product, which interested Genesys, he said.
PureCloud allows the company to sell its software via cloud-based servers, which contrasts with installing it directly on the servers of enterprise customers. Interactive still provides a so-called "on-premise" version of its software, but the cloud-based PureCloud product, which the company rolled out last year, is expected to drive growth.
Interactive grabbed 322 PureCloud customers in the first six months of 2016, versus 24 customers in the last six months of 2015.
"We put a lot of R&D into this new PureCloud product line, and we just really hit the cloud in the right way," Brown said. "And that was something really missing from the Genesys portfolio. … We just felt that the combination would make the strongest company in this space, and it was time to pull the trigger."
Brown said another, less significant factor was his itch to try out other ventures, particularly in health and biotechnology.
"I'll be here through the close, but I've got other things in mind so I'm kind of anxious to move on after that," he said.
Genesys is the far larger company, based on revenue. It has $1.3 billion in annual sales compared with Interactive's approximately $400 million. Genesys has about 2,800 employees worldwide, including 500 at its San Francisco-area headquarters. Interactive, meanwhile, has about 2,300 employees, including 1,000 in Indianapolis.
In a phone interview Wednesday, Segre told IBJ that when the merger is complete, the Indianapolis office will have more Genesys employees than any other company location.
In a written statement, he cast the purchase as an opportunity to "accelerate innovation" and "drive growth." Genesys spends some $200 million a year on research and development.
"Our combined product portfolio will provide the broadest set of transformative customer experience solutions optimized for customers of all sizes and sophistication levels, available both in the cloud and on-premise," he said.
In a written statement, Brown, Interactive's chairman and CEO, said: "We have been working for the past 22 years to build an outstanding company with innovative, disruptive technology solutions that transform businesses. I am confident that our agreement with Genesys, which follows a careful evaluation of strategic alternatives, provides Interactive Intelligence shareholders with immediate and significant value, and will deliver meaningful benefits to our customers, partners and employees."
Genesys received a $900 million investment last month from private equity firm Hellman & Friedman and has been looking to use the infusion to expand its business, IBJ reported earlier this month.
Reuters reported in July that Interactive Intelligence had hired Union Square Advisors to help it explore strategic options, including a sale.
Interactive's transition to the cloud has weighed down the company's short-term performance. That's because cloud customers pay over long subscription terms as opposed to upfront. It also means generating less revenue from servicing customers who install the software at their own offices.
Against that backdrop, the stock slid 71 percent between February 2014 and January 2016, from about $80 a share to about $23 a share, at which point it began rallying.
Brown, 60, is Interactive's largest shareholder, with a 17 percent stake. He is set to receive $236 million for his 3.9 million shares in the buyout. Also scoring a big payout will be Interactive board member and longtime tech-company investor Mark Hill, 59, who is in line to receive $10.3 million for his more than 170,000 shares.
The transaction needs regulatory approval as well as approval from Interactive Intelligence shareholders. The Interactive board of directors has already approved the deal.
Interactive is the third software company that Brown launched and later sold. In 1988 he co-founded Indianapolis-based Software Artistry, a developer of customer support software that went public in March 1995 and was acquired by IBM in 1998. Brown's first software company, also based in Indiana, was acquired by Electronic Data Systems in 1987.
During Interactive's second-quarter conference call earlier this month, Brown wouldn't comment on merger speculation but said he was bullish about Interactive's prospects.
"I [want] to reiterate how well-positioned we are for the future," Brown said on the call. "With over 300 PureCloud customers in just two quarters and a technology like none other in the industry, I continue to believe we're seeing an inflection point for the entire customer-engagement space."
Please enable JavaScript to view this content.