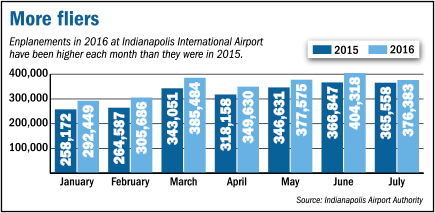 Passenger traffic at Indianapolis International Airport is up 10 percent this year over last year, according to airport statistics.
For the first seven months of 2016, the airport saw 2.49 million passengers board flights. During the same period in 2015, that number stood at 2.26 million. These numbers include domestic, charter and international flights.
Moreover, enplanements have increased each month over the same month in 2015.
The airport reported that Southwest Airlines had by far the largest market share through the first seven months. It carried 33.8 percent of passengers. American Airlines had a 22.7 percent market share, narrowly topping Delta Air Lines, with a 22.1 percent share.•
Please enable JavaScript to view this content.