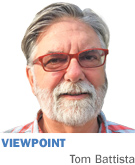 To me, business owners who are trying to block the planned Red Line Bus Rapid Transit line are playing a short-term game. And that's a game I've never understood.
I've always played for the long term. The areas I've invested in, the types of businesses I've owned, and the day-to-day work I do has required a long-term view, a good deal of patience and, here and there, some flat-out perseverance. But it's always paid off.
That's why I feel confident about betting on improved transit in Indianapolis.
Actually, I see transit as one of the least-risky bets I've made, in part because of the demographics playing in its favor. The generation coming of age in our workforce wants less and less to do with our married-to-our-cars culture. Young people in this generation don't all run out and get their licenses on the first day they can.
Instead, most of them seem to expect transit. The cities they think are cool—whether it's Chicago, Austin or cities in Europe—have transit. They come out of college looking for places where they don't have to worry about buying a car. They're accustomed to using Uber and Lyft, to biking and walking from one place to another and, yes, to using transit. They value walkable neighborhoods and community-based experiences—both of which are fed by public transit.
Add to those realities the fact that people are living longer and more older people want to get around without having to drive, and that people who have disabilities or simply can't afford a car need transit to get around, and suddenly you've got a pretty strong case for the future of public transit.
So what's all this talk about transit hurting business because it takes away parking spaces or because the construction will block business? It ignores changing times and it banks on what's happening today rather than on what is going to happen for years to come.
It reminds me of the time when the Indianapolis Cultural Trail along Virginia Avenue was proposed. Some area business owners complained that it would take away parking places and snarl traffic. They said the construction phase would hurt business.
Now? Everybody along Virginia Avenue loves the Cultural Trail, not just because it brings business to our doors but also because it has created a street-level life that hasn't been there for decades. One morning a couple of weeks ago, I was sitting in front of Bluebeard having a cup of coffee. As I sat chatting with someone at a table near the sidewalk, we were constantly interrupted by passers-by saying hi, asking about things going on along Virginia Avenue and so forth. The trail was a constant stream of activity, feeding a strong sense of community and vitality.
All of this certainly makes any short-term pain we might have suffered well worth it.
If you take a long-term perspective, the Red Line promises to be transformational. It's going to make everything in the areas it touches more accessible. It's going to connect people to places they've never been, and they won't care whether there are parking places or whether there are two lanes of traffic or three.
In fact, I'm planning my next big project for the Garfield Park area. Why? Because that's where the Red Line is going, and that makes it a long-term play.•
__________
Tom Battista, a small businessman and entrepreneur, owns Bluebeard in Fletcher Place.
Please enable JavaScript to view this content.