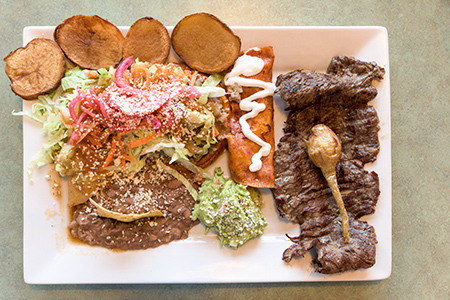 There's a cultural condescension that sometimes creeps into conversations about Mexican restaurants—a pseudo-shock when a place whose name starts with La or Le turns out to exceed the minimum requirements established by standard taco and burrito strip-center eateries.
So when I say La Gloria Restaurant Cenaduria (3565 Lafayette Road, 290-8009) shines, it isn't just because there's no Speedy Gonzales offering on the lunch menu or because we had to ask for a menu that was in English instead of Spanish. I say it because the Shrimp Pozole ($8.49/$12.49), playing practically zero notes from the Typical American-ized Mexican Spices Playbook, offered a delicious hominy and shrimp sauce traceable, according to the menu, to Mexico's Nayarit coast. Substantial shrimp and abundant hominy provided a solid base accented with lettuce, onion and sliced avocado. Even with a small portion, you might find yourself with leftovers that make for a wonderful next-day treat.
Not speaking Spanish, I'm assuming that Tepiquena ($14.45) roughly translates to "big plate of good stuff." A thin but sizable slice of spiced, chewy roast beef with a distinct charcoal flavor accompanied a fried taco, an enchilada, a sope, guacamole, fried beans, sliced potatoes and a bit of salad. While deciding where to begin may prove a challenge, you might be surprised—as I was—how it somehow managed to disappear.
Devoured with equal pleasure was the Poblano Mole Enchiladas ($9.95), which were set apart by a full-bodied—but not spicy—mole sauce that my dining companion swore was laced with tequila. I won't verify that, but I will add that the enchiladas were packed with chicken and that coating the tortillas with chilacate sauce before heating them on the griddle added a touch of care that paid off.
If you've got room, try a slice of the Coconut Flan ($5.95), with the consistency of cheesecake and drizzled with chocolate.
With all that goodness, it seems picky to point out that the salsa was a bit on the salty side. However, a small bowl of housemade pickled vegetables—sweet rather than dill-y—was a welcome addition to the pre-feast.•
—Lou Harry
Please enable JavaScript to view this content.