Don Brown is one of Indiana's most prominent serial entrepreneurs, having started and sold Software Artistry two decades ago and reaching a deal late last month to sell Interactive Intelligence Group for $1.4 billion to California-based Genesys Telecommunications Laboratories. The 60-year-old intends to leave the company later this year.

Brown has a penchant for biotechnology, and his next venture will likely be in that arena. He's also an avid outdoorsman, a father of eight, and a pilot. The following are edited remarks from a recent conversation about it all.

IBJ: You built and sold three technology companies from scratch. Is this it?

BROWN: No. I've got several ideas percolating in my brain. They're not all information technology—I'm also interested in biotech. I've got pretty good business plans for four different ventures. Three of them for-profit, one not-for-profit.

IBJ: Did you foresee yourself steering Interactive Intelligence for 22 years?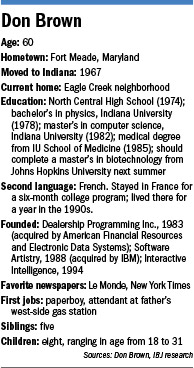 BROWN: Oh, hell no. No. My experience had been to not be with a technology company for that long. It's fairly rare for technology companies to last that long. Generally, either they flame out or they get acquired. And so it's unusual for one to grow more or less steadily for 20-plus years. So, no. I never expected that.

IBJ: At what point did you become really interested in selling?

BROWN: Well, I've been open to the idea of selling all the way along—again, because that was my experience. When I started the company, I was hoping it would be successful, go public, operate for two or three years and then be acquired. But we kept growing and there were lots of intellectually interesting and challenging things along the way in terms of technology and global expansion and lots of cool things. So I was surprised, first of all, that I was enjoying it as much as I did, but also that the ceiling kept rising. We had some nibbles along the way, but they never matched up with our expectations. So we, collectively—and I, personally—were content to just keep on riding it along.

IBJ: Do you have any misgivings or feel any sorrow about parting ways?

BROWN: Not a whole lot, surprisingly. I mean, I've had lots of great relationships here and a lot of friends. And I think a lot of those friendships will endure past this company. But for me, personally, I think the time was right. Mentally, I was starting to get excited about other ideas, so no strong misgivings at this point.

IBJ: Can you give a sneak peek of what you might be doing this time next year?

BROWN: Well, you can infer part of it from my background. I'm a [medical doctor] and I enrolled a couple of years ago in a graduate course in biotech at Johns Hopkins University, and I'm two-thirds of the way toward that.

I'm really excited about some of the fascinating things going on in biotech. So whether it's from the biotech angle or the information technology side, I'd really love to do something in life sciences and health care. I think you can expect me to do probably multiple things in that general area.

IBJ: Are you familiar with the not-for-profit Indiana Biosciences Research Institute? Will your plans relate to its work?

BROWN: I'm aware at a very high level and, no, I'm not looking to do anything like that. I think they've got a great mission. I think it's more focused on metabolic diseases, diabetes—those sorts of things.

For me, I can't help but to view everything from a more entrepreneurial vantage point. And that's what I'm hoping I can bring to biotech and some of the other ventures that I'm interested in doing. Big-time initiatives with lots of different people—that's just not my strength.

IBJ: What's the one problem or disease you want to help tackle?

BROWN: To me, the hottest area in biotech right now and maybe all of science is immunology. With the progress in [DNA] sequencing technology, there's just been an unbelievable proliferation of understanding of how our immune system works, how it contributes to disease like autoimmune diseases but also the role it can potentially play in treating diseases like cancer.

It's a fascinating area. I've really enjoyed catching up—going to medical school in the 1980s and having some understanding of the state of the art at that point and coming at it 25 years later and seeing the incredible progress. So that's certainly one of the areas where I would like to look for a way to contribute.

IBJ: Tell me the story behind the Johns Hopkins biotechnology degree. Would you be interested in another degree after that?

BROWN: [Laughs] I'd never say never, but I just kind of take it one step at a time.

For me, I knew something was up because when I would go home at night I wouldn't pick up a business book or software magazines or any of that sort of stuff. I would open up a biochemistry book or a molecular biology book. But it was kind of haphazard, and a couple of years ago I heard about a really cool graduate program that Johns Hopkins was running that was primarily online. So I signed up for it and my kids thought I was absolutely nuts.

I've been the oldest person in every class that I've taken so far, but I usually have been the top student in class, too. It's kind of fun to see this old geezer beat all these young hotshots. I've just had a blast with it.

IBJ: You have eight children that you've home-schooled to varying degrees. How'd you have time for that?

BROWN: Very little sleep, for one thing. But part of that led us to open up Interactive Academy up in Zionsville, which is both a private school now focusing on pre-K and kindergarten, as well as gymnastics. So along the way, I passed the torch to some of the teachers and tutors there. So it was a combination of private and stay-at-home.

It really started when we went to France years ago and put the kids in public school in a little town out in the boondocks there. They came up the learning curve and when we came back, we really wanted to maintain that language proficiency and we found that easiest to do in just schooling them at home, at least for a few years.

IBJ: Who is the earliest role model/mentor that you remember?

BROWN: As a kid, I never had any interest and never would have imagined that I would have ended up as a businessperson. My heroes were always scientists—whether fictional scientists in literature or real scientists.

I would say my most important mentor along the way was Bob Compton. Bob worked at CID Venture Partners and led the investment of CID in the early years of Software Artistry, and he was a tremendous mentor/colleague just rolling up his sleeves and working together with me to figure out how to apply the really cool artificial intelligence technology we had back then to a business application we could actually sell.

IBJ: You weren't terribly interested in business growing up, but today business is your preferred problem-solving vehicle. When did that change and why?

BROWN: I think it's been an incremental process. When I was in school at Indiana University, I kind of laughed at my buddies going through business school. I was taking physics and chemistry and what I thought were the macho disciplines. It was only much later along the way that I came to understand the real value you can play as an entrepreneur and how you can solve important problems. So now my heroes are people like Elon Musk who bridge that gap between technology and science and entrepreneurship.

So it's something that I've come to appreciate little by little along the way, as I've been part of entrepreneurial efforts, and now I'm just a big believer in the ability of the free market to motivate people and using market forces that can accomplish a lot of good things for the world.

IBJ: What's your exercise regimen? Are you more of a strength or aerobics person?

BROWN: I'm kind of a combination. I'm kind of a Stairmaster or hiking guy. I love to go up the mountains and do fairly strenuous mountain hikes.

The other thing I got into a few years ago was rock climbing. So I'm a really passionate rock climber. Indoors when necessary, but I love outdoor climbing and that element of problem-solving and strength and conquering your fears.

IBJ: What are some of your other hobbies besides rock-climbing and hiking?

BROWN: I love being outdoors. I bought a house out in Park City, Utah, a couple years ago. Three of my kids are out there. So I love going out there hiking, climbing, camping, mountain-biking—any excuse to be outdoors.

I'm an instrument-rated pilot. I've got a single-engine turboprop that I fly, so I love to fly as well.

IBJ: How often do you?

BROWN: It varies, but a couple times a month. I fly back and forth to Utah and to business trips all over the country.

I fly myself, and a lot of our company members. We've got a number of people with horror stories to tell about flying with me. It's kind of a badge of honor. I've got a six-seater, so I've had it full before. I've been doing it for about 10 years.

IBJ: What charities or philanthropic causes are you passionate about?

BROWN: You know, the one I've been most involved with is—I've got a buddy from high school, Dr. Bob Einterz, who runs Indiana University's AMPATH program. It's an AIDS program in Kenya, and Bob is probably one of the human beings I admire most. He's a tremendous physician and a very selfless person. So I've tried to do my small bit over the years to support him and that program. That's the one I've been most actively involved in.

IBJ: Your father was in the Army. Tell me about your mother.

BROWN: My mother was a simple lady from the hills of Kentucky who had an eighth-grade education and made mean biscuits and gravy and raised six kids.

IBJ: What are your fondest memories of your mom and dad?

BROWN: They were just very simple people who really enjoyed being outdoors. They were both raised on farms. Really, just the very simplest of times together, especially meals. My mom was a great Southern cook—you know, fried chicken, biscuits and gravy, chicken and noodles. And I enjoyed the time we had as a family, sharing those things.•