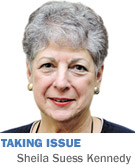 In the last few years, "leadership studies" have become a common element in the curriculums of business schools and schools of public administration, among others.
I will admit I remain somewhat skeptical of instructors' ability to "teach" students how to inspire others (my own, idiosyncratic definition), but I harbor no doubt about the importance of civic and political leadership in our communal lives.
Leadership guru Warren Bennis has written that leaders are people who do the right thing, and managers are people who do things right. A textbook definition says that leaders set direction, build inspiring visions and map out where a community or organization needs to go.
I served in Bill Hudnut's administration, back when Indianapolis was "Indynoplace." Hudnut was an inspirational leader who enthusiastically communicated his vision of the city's future. He frequently proclaimed himself a citizen of "no mean city"—and he was willing to spend political capital advancing his vision of the city's future. (Bringing the Colts to Indianapolis, for example, in order to position us as a major-league city, was audacious—and then, as now, not uncontroversial.)
The bustling city we inhabit today owes its existence to Richard Lugar, Hudnut and others who were willing to stick their necks out to do the right thing.
Which brings me to Mayor Hogsett and November's transit referendum.
As Indianapolis has grown, problems attributable to the lack of efficient public transportation have become acute. It is difficult or impossible for workers without cars to get to available jobs, and car-ownership costs burden low-income workers. People with disabilities and the growing number of elderly who no longer can drive are unable to access needed services or participate in the commercial and social life of the community.
MIBOR Realtor Association President Roger Lundy points out that all of central Indiana will benefit from improved mass transit. Transit is key to connecting neighborhoods, providing access to housing opportunities, and enabling independence for vulnerable populations; it will also reduce traffic congestion and improve air quality.
These are quality-of-life issues and, when all is said and done, cities compete for residents and employers on the basis of quality of life. Indianapolis cannot offer oceans or mountains or an enticing climate; what we have to work with is Hoosier hospitality, a competitive cost of living, and the amenities that create a good quality of life.
The Indianapolis civic and business community has spent years studying this issue, visiting cities where new transit systems have worked and cities where they haven't. The first phase of the proposed system will be built with a federal grant, but completion depends upon the outcome of November's vote.
The mayor has indicated that he will not weigh in on the upcoming referendum, that he will "leave it to the voters." He evidently considers that stance to be prudential, saving his political capital for other issues.
It's hard not to be sympathetic; thanks in no small measure to the constitutionalization of property tax caps, Indianapolis—and other Hoosier cities—face daunting fiscal problems. But solving those problems will require growing our residential and economic base—and achieving that growth will require a vastly improved transit system.
Since his election, Hogsett has demonstrated the qualities of a good manager. His first budget was businesslike and realistic, and he has worked to improve the formerly chilly relationship of the administration and City-County Council.
That is good management. Transit is his opportunity to show that he is also a leader.•
__________
Kennedy is a professor of law and public policy at the School of Public and Environmental Affairs at IUPUI. She can be reached at skennedy@ibj.com.
Please enable JavaScript to view this content.