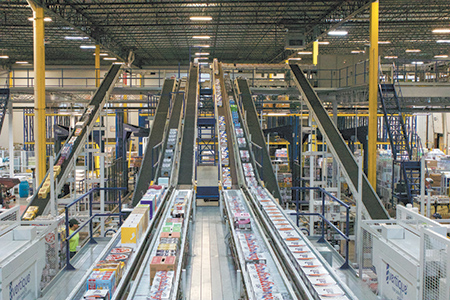 Liquor distributors and a group of beer distributors operating in the state have been staunch opponents of Indianapolis-based beer wholesaler Monarch Beverage Co.'s unsuccessful attempts over the years to gain entrance into the hard-liquor distribution market.
Now that a Marion County judge has ruled a Monarch affiliate is entitled to a liquor permit, those groups say they could face the reality they've feared for years. The state is seeking to head off that outcome by appealing the judge's Aug. 24 ruling in favor of Spirited Sales LLC, and they've asked the judge to stay the decision until the appellate court rules.
"Monarch would have a unique competitive advantage over every other distributor and would have immense strength when dealing with retailers and suppliers due to both market factors and other state statutes," according to a statement from Tina Noel on behalf of the Wine and Spirits Distributors of Indiana. The group represents the state's two major liquor distributors—Miami-based Southern Glazer's Wine and Spirits and Houston-based Republic National Distributing Co.
Meanwhile, Spirited Sales contends it's being unfairly held back from participating in the market. The company contends the Alcohol & Tobacco Commission should have immediately issued it a liquor permit after Special Judge Heather Welch ruled that doing so would not violate the Indiana alcohol regulations that forbid a beer wholesaler from also distributing liquor. Welch ruled Spirited and Monarch were separate companies, despite having overlapping ownership.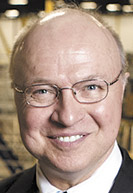 Terry
"I just don't believe there is evidence to support the claim … that permitting additional competition is going to jeopardize the existence of multibillion-dollar liquor wholesalers," said Phil Terry, CEO of both Spirited Sales and Monarch.
The question now is how the competitive landscape would shift if Spirited ultimately gets the permit.
"There's one pie out there," said former Democratic state Rep. Trenton Van Haaften, who served from 2004 to 2010, part of the time as chairman of the House Public Policy Committee, which legislates alcohol matters. "Everybody's making money and everyone's making sure they preserve their piece of the pie. When someone tries to push, they'll push back.
"It's not so much a question of how you're going to be pushed out of business, as opposed to that you're going to have to compete with somebody differently to preserve your piece of the pie."
Here's a look at some arguments against the ruling:
• Monarch and Spirited are essentially "one in the same," Noel said. She and other critics contend Monarch—which distributes beer from MillerCoors and other brewers and also sells wine—is using Spirited to get around the prohibition against entering the liquor business after lawsuits and efforts to change state law failed.
"You can't do indirectly what you can't do directly, and a liquor and beer wholesaler are to be separate," Noel said in a statement.
But Welch asserted that the two entities were, in fact, separate. Spirited is wholly owned by EF Transit Inc., which does transportation service for Monarch and other companies. Monarch's shareholders also own EFT.
• Monarch has a "unique competitive advantage." Because it is the state's largest beer distributor and because liquor suppliers seek to work with a single distributor, Monarch would naturally have an edge over rivals, the company's opponents say.
"As the only wholesaler in the market with all three products on their trucks and in their portfolio of brands, Monarch would have clear advantages when selling to alcohol retailers in the state," Noel told IBJ.
The president of Wine and Spirits Distributors of Indiana is Jim Purucker, who did not reply to a request for comment.
The other major Monarch opponent is the Indiana Beverage Alliance, which represents about 20 Anheuser-Busch beer distributors. Its leader, Marc Carmichael, declined to comment.

• Franchise protections in the beer industry and absent from the hard-liquor industry would further lead to an uneven playing field.
Franchise protection makes it "all but impossible" for a beer wholesaler to be terminated by one of its suppliers, Noel said. If the supplier did leave, the new distributor would have to compensate the old one for the lost business.
"Spirit suppliers can, and routinely do, move between wholesalers with little more than 30 days' notice," Noel said. "So allowing Monarch in the spirits or liquor business without addressing franchise protection laws lets Monarch compete to sell liquor brands and doesn't let liquor wholesalers compete to sell beer brands."
But Murray Clark, a former Indiana Republican Party chairman and one of Monarch's lawyers, said the big liquor distributors in Indiana have such a strong market position they are unlikely to see suppliers depart.
In fact, Monarch contends there's plenty of reason to think it would struggle to compete if it made a play for their customers.
For one thing, they are many times its size. Monarch's $333 million in annual revenue compares with Southern Glazer's $17 billion and Republic National Distributing Co.'s $6 billion.
The Aug. 24 court decision also noted that, in the last few years, Republic's Indiana group has taken four wine brands from Monarch, while Monarch has taken none from Republic.
Terry said a liquor supplier would have to "jeopardize its relationship with the [larger] distributors who work with them in other states."
In her ruling, Welch wrote: "Multistate wholesalers such as Southern and Republic have additional market power because they can make multistate deals with manufacturers."
Terry said the main reason Monarch wants a three-way permit is to help keep an important client on board. He said E&J Gallo Winery, which started making spirits about eight years ago, is "the only liquor supplier" Spirited is currently hoping to do business with.
"Gallo is about 90 percent of all the wine we sell," Terry said. "If there isn't an efficient way for Gallo to get its spirits to market, there's a real risk that, at some point, Gallo would decide to move its wine and spirits into a traditional liquor wholesaler like the competitors that are fighting us."
Because the franchise protection that covers beer distributorships doesn't apply to wineries, Gallo could depart without Monarch's receiving compensation.
Besides Gallo, Terry said he wouldn't anticipate that "any significant liquor manufacturer would choose Spirited Sales," but he acknowledged, "some small ones might."
"I'd love to talk to craft suppliers," Terry said. "But I don't think it will be Diageo." Diageo makes global brands including Smirnoff, Captain Morgan, Johnnie Walker and Bailey's.•
Please enable JavaScript to view this content.