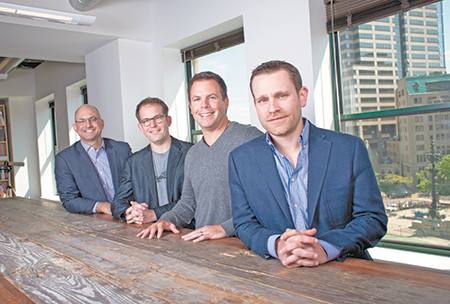 Since spring 2015, High Alpha has made local headlines for creating and adopting software startups, and it has three tech companies in its nest.
But the partners who run the venture studio and its investment arm have also been looking beyond Indianapolis, making investments in out-of-town companies and forging a national reputation.
It's technically international, if you count its March investment in a Toronto-based company. High Alpha is one of the only—if not the only—Indianapolis venture capital firms with a focus broader than the Midwest.
"The vision we crafted is that we would be starting and building companies right here in our back yard," High Alpha Managing Partner Scott Dorsey said in an interview, "but that our investing would be more far-reaching."
Dorsey and his three business partners oversee the two arms of High Alpha. One is High Alpha Studio, which has launched companies that include legal-tech startup Doxly.
The other is High Alpha Capital, whose goal is to invest in enterprise software-as-a-service companies across North America. Of the $35 million the High Alpha partners raised to kick off operations, $21 million was designated for High Alpha Capital.
So far, it's invested in 10 companies, including the $20 million round for San Francisco-based DroneDeploy, which makes software that allows companies in agriculture, real estate and other industries to collect and analyze visual aerial data.
Seven of those companies were out of town; the three local ones are Lesson.ly Inc., Octiv Inc. and Sigstr Inc. High Alpha doesn't disclose how much it has invested in each deal.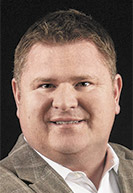 Kopp
As High Alpha grows its brand awareness, industry observers said, its access to highly sought-after deals stands to grow. If those deals prove successful and yield sizable returns, High Alpha's local operations would benefit.
Some of this is already happening. Tim Kopp, a former ExactTarget executive, said he's invested in High Alpha Capital and that the firm's relationships and expertise are opening doors.
"Many of the deals they're getting in are deals that other firms would kill for the chance to get into," Kopp said, "and they're able to get unique access and unique deal flow because of the combined operating experience of that group."
One example appears to be High Alpha's investment in DroneDeploy. CEO Mike Winn said he called Dorsey as a reference, hoping to get his take on an investor DroneDeploy was working with.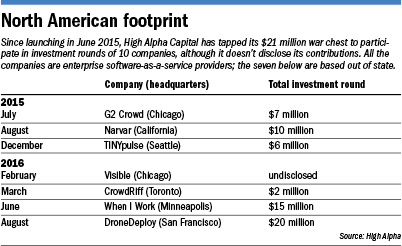 The conversation became more than a reference call, and Winn said he was impressed with Dorsey's experience starting and steering ExactTarget to a $2.5 billion sale. After the two expressed mutual interest, Winn said, he ultimately let High Alpha in on a round that drew a lot of investor interest.
"Scott was able to show me how much he knew about building enterprise cloud companies," Winn said, "and that was one of the reasons we enabled High Alpha to participate in the round."
Dorsey said having a venture firm with a North American focus helps elevate Indianapolis' stature in software technology and venture investing.
He also said it helps him facilitate relationships between High Alpha Studio startup executives and executives of High Alpha Capital portfolio companies. This is often done through a monthly speaker series, where those portfolio-company CEOs tell the studio-company CEOs how they grew to $10 million in revenue.
Then Dorsey and his business partners take the portfolio CEOs and "help them think through how to scale from $10 million to $100 million, leveraging what we did with ExactTarget."
"It ends up being a really nice reciprocal relationship," he said.
Dorsey said High Alpha considers 50 to 75 deals per quarter, and some of that deal flow emanates from relationships Dorsey and his business partners built while growing ExactTarget.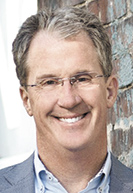 Kvamme
High Alpha also has done deals with fairly new investing partners, including Columbus, Ohio-based Drive Capital. The two firms co-invested in a $15 million round in When I Work Inc., an employee-scheduling software firm based in Minneapolis.
Despite High Alpha's coast-to-coast investing scope, Drive Capital co-founder Mark Kvamme said he appreciates having High Alpha in the Midwest because finding experienced co-investing partners is a challenge.
"There are a very few firms like High Alpha, Drive Capital and others that have the acumen on how to build very large tech companies in the Midwest," he said.
Dorsey said High Alpha Capital will continue to invest in the best enterprise-software companies it discovers throughout North America, but this year it anticipates investing in its three studio companies—Doxly, Zylo and Clear Scholar.•
Please enable JavaScript to view this content.