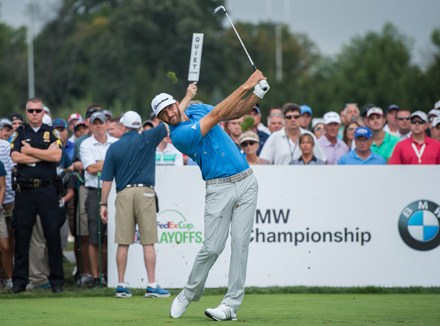 The BMW Championship drew about 124,800 fans to Crooked Stick Golf Club in Carmel over its four-day run, tournament organizers said Sunday.
Attendance was down about 13 percent, from about 143,000 in 2012, when Crooked Stick last hosted the tournament, but this year's event was plagued by rainy, stormy weather that delayed rounds during the first three days of play.
Tiger Woods, a huge draw on the PGA Tour, also played in the 2012 event, but has been out of action since last August due to injuries.
The day's final event drew about 35,000 spectators, down from about 40,000 at the 2012 event. The final round was played at the same time the Indianapolis Colts were playing their home opener.
Organizers estimated the BMW would have about a $30 million economic impact on central Indiana.
Dustin Johnson, 32, won this year's BMW Championship with a 23-under par 265, three strokes ahead of Paul Casey and six strokes ahead of Roberto Castro.
Johnson received a winner's check for $1.53 million for his 14th PGA Tourney victory. Johnson joins Woods (2007 & 2009) as one of only two golfers to win the event twice.
Please enable JavaScript to view this content.