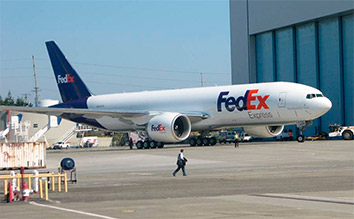 Memphis, Tennessee-based FedEx Corp. has its eye on a $170 million equipment upgrade at its Indianapolis package-handling hub, and the company is asking local officials for a tax abatement to help offset its investment costs.
FedEx's Indianapolis facility, which opened in 1988, is the second largest of the company's 10 U.S. package-handling hubs. It occupies a 2.4 million-square-foot building at 6648 S. Perimeter Road, on property owned by the Indianapolis Airport Authority.
The facility employs 728 full-time and about 3,200 part-time workers.
According to documents from the Marion County Metropolitan Development Commission, FedEx proposes to install $170 million in new logistics equipment that would increase the local hub's package-sorting capacity. The machinery would be installed between 2017 and 2020, and a new "cohesive logistics" system would go into operation once all the new machinery is in place.
Along with the new equipment, FedEx would add 27 full-time jobs and 178 part-time jobs, the document says. It would also retain the existing workforce. The retained jobs pay an average wage of $16.88 per hour and the new positions will pay an average of $16.52 per hour, according to the abatement application.
FedEx's Indianapolis hub is currently capable of sorting 214,000 packages and documents per hour, according to the company's most recent annual report with the U.S. Securities and Exchange Commission.
That puts the facility second only to its Memphis hub, with a capacity of 475,000 items per hour. FedEx's third largest hub in terms of sorting capacity is Newark, New Jersey, which can handle up to 156,000 items per hour.
The Metropolitan Development Commission is recommending that FedEx receive an eight-year personal property-tax abatement from the city on the new equipment that would save FedEx an estimated $9.9 million in taxes over the life of the abatement.
Over the abatement period, FedEx would still pay an estimated $6.2 million in personal property taxes on the new equipment, in addition to existing personal property taxes of $8 million annually. After the abatement period, FedEx would pay an estimated $1.7 million annually in personal property taxes on the new equipment.
At this point, FedEx is not saying much about its plans.
"FedEx Express is constantly evaluating where best to expand our network to meet growing customer demand for our services," FedEx spokesman Jack Pfeiffer said in a written statement to IBJ. "We can confirm we are looking at a potential expansion at the Indianapolis International Airport. As a matter of practice, FedEx does not publicly discuss specifics of a project until all aspects have been finalized."
The request will be introduced to the Indianapolis City-County Council at a meeting Monday evening. The matter will be taken up again by the council later this month before going back to the Metropolitan Development Commission for a public hearing and vote on Oct. 5.
It's unclear whether FedEx is also seeking state incentives. Abby Gras, spokeswoman for the Indiana Economic Development Corp., declined to say whether the agency is in talks with FedEx.
"All of our negotiations with companies are confidential until finalized," Gras wrote to IBJ.
Please enable JavaScript to view this content.