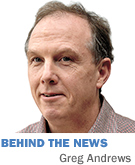 Recovering money for investors in a Ponzi scheme is all about finding potentially culpable parties with deep pockets and then launching a no-holds-barred legal assault to get them to open their wallets.

No one knows the importance of deep pockets better than Brian Bash, the bankruptcy trustee for Akron, Ohio-based Fair Finance Co.—the business Tim Durham looted in a scheme that defrauded more than 5,200 Ohio residents out of more than $208 million.

That's because the vast majority of the dozens of people he has sued over the past six years—mostly friends and business associates of Durham's who received questionable transfers from the Indianapolis businessman—were just scraping by and had little to pursue.

Durham
As Bash has lamented, many who had money "squandered" it years ago, undercutting the value of the court victories he has won against them. "Getting a judgment is one thing; collecting is another," he said a few years ago.

So that's why a U.S. Appeals Court ruling last month overturning a lower court's dismissal of a lawsuit against Textron Financial Corp. could be so significant. Textron is part of Providence, Rhode Island-based Textron Inc.—a Fortune 500 financial services company with $13 billion in revenue.

Textron Financial is one of two Fair Finance lenders that Bash sued in 2012 charging they stood idly by as Durham drained tens of millions of dollars from Fair to support his lavish lifestyle and prop up failing businesses he owned. The suit alleged they turned a blind eye because the relationships were highly profitable and—unlike the mom-and-pop Ohioans who bought unsecured notes from Fair—they held liens on Fair assets that protected them from losses.

A judge in late 2012 tossed out the case against Textron—finding in part that the trustee lacked legal standing to pursue the suit. But Bash pressed on against the other lender, Fortress Credit Corp., and in 2015 it agreed to a $35 million settlement. That deal cleared the way late last year for Bash to make his only distribution to defrauded investors so far—$18 million, which worked out to a 9-cents-on-the-dollar recovery.

The case against Textron that Bash now will pursue will involve plenty of technical legal issues, but also a healthy dose of human drama, captured in a series of Textron email exchanges.

Just a year after Durham and fellow Indianapolis businessman Jim Cochran bought Fair in 2002, a Textron executive expressed concern that the pair had ratcheted up the sale of Fair investment certificates and were using the proceeds as "a piggy bank" to pay for things unrelated to the company's core business of buying and collecting on consumer-finance loans. The withdrawals were recorded on the books as insider loans but never were repaid.

The executive called the practice "wrong" and said Textron's credit committee was "concerned that the issue with us knowing … proceeds are going elsewhere could come back to haunt us."

Rather than pulling the plug on the lending relationship, Textron doubled down and expanded it, attorneys for Bash say in court filings. In fact, in 2004 Textron agreed to put off making public disclosures about the escalating level of insider loans in order to avoid sending "an unsettling message to the market," according to internal emails.

"As always, Textron displayed zero concern" for the investors," Bash's attorneys said in court filings. "Instead, Textron was concerned only with keeping Fair Finance alive long enough for Textron to get its money."

The company collected the full $17 million it was owed in 2007, two years before the FBI raided the company and it shut down.

A Textron spokesman declined to comment to the Akron Beacon Journal, saying the firm does not discuss litigation.

Prosecutors in 2011 charged Durham, Cochran and Fair's chief financial officer, Rick Snow, with securities fraud and other felonies. All three were convicted and sentenced to prison the following year, with Durham receiving 50 years, Cochran 25 years and Snow 10 years.•