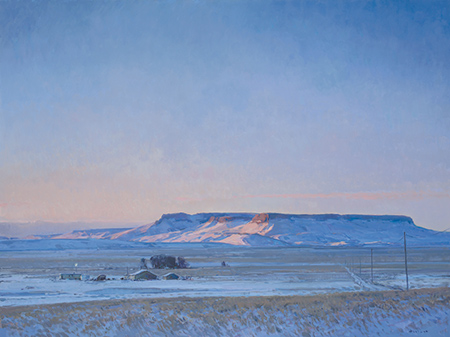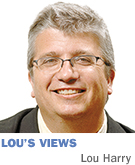 Josh Elliott's peaceful painting of a mountain range whose size is dwarfed by the sky above is titled "The Stillness." But that also could be the title for many of the other artworks on display as part of this year's "Quest for the West" show and sale at the Eitlejorg Museum of American Indians and Western Art (through Oct. 9).
While some have narrative action—including a barroom fight in Andy Thomas' overly colorfully titled "You Cheating Scoundrel!"—the majority of the work this year seems to implore the viewer to slow down. Sure, action is implied in the wary eyes of the big cat in Daniel Smith's "Observation Deck" and in the eager expressions of the young men contemplating a journey west in Heide Presse's "Promises of Gold," but these, too, emphasize the calm, even if a storm might be brewing.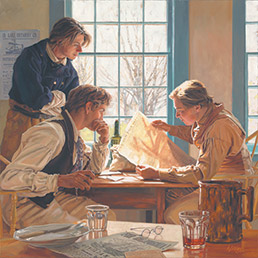 "Promises of Gold" by Heide Presse.
Far from uniform, that stillness finds many forms here. There's the art within the art of Bruce Cheever's still life of a piece of pottery in "Earthen Treasure" and in the mythic landscape being overseen by cowboy, dog and horse in Dan Bodelson's "Work Day is Over." The ridge takes precedence over the rider in Joseph McGurl's "Riders on the Ridge." And the rigidity of both horse and man in Logan Maxwell Hagege's "Paradise" doesn't carry even a hint of movement, before or after.
Those who have been to previous incarnations of "Quest for the West" know it's geared toward buyers, who converge on the Eiteljorg for the show's opening to bid on the work. As such, there's a tendency toward the familiar. Still, an occasional surprise slips in.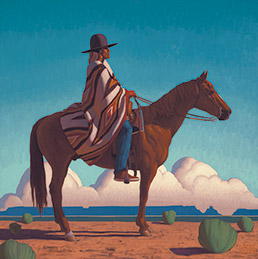 "Paradise" by Logan Maxwell Hagege.
That came, for me, with Rock Newcomb's "Under the Boardwalk." What's a photorealistic image of a fishing pier over the ocean doing here amid the Native Americans, adobe walls, wildlife and mountain trails?
Well, Newport Pier on California's Balboa Peninsula is as far west as you can go in the mainland USA. So it qualifies as Western art.
P.S.: Not all the work disappears into private collections at the end of the run. Josh Elliott's unusually cropped (to strong effect) "Calving Season" landed the 2016 Harrison Eiteljorg Purchase Award, and it's a piece I'm pleased to see added to the museum's collection.•
__________
This column appears weekly. Send information on upcoming arts and entertainment events to lharry@ibj.com.
Please enable JavaScript to view this content.