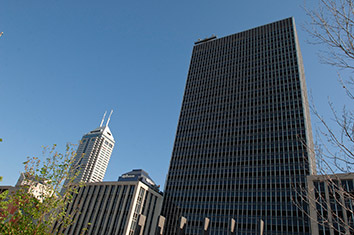 The Indianapolis City-County Council over the next few months will consider whether to support Mayor Joe Hogsett's proposed approach to relieving stress on the city's $1.1 billion budget: issuing up to $75 million in bonds to pay for capital expenses, including improved infrastructure, new fire stations, new voting machines and a new police dispatch system.
Controller Fady Qaddoura, who has been tasked with addressing a nearly $50 million budget deficit, told city councilors last week that using debt to fund capital expenses—instead of funding them out of the city's operational budget—is a "viable option to control our budget."
The Council voted narrowly and along party lines on Sept. 12 to express its intent to issue bonds, taking the first step in the process of earmarking expenses that future bond proceeds could address. The council would have to approve new bond issuances as they come up over the next few months.
"The idea is that we want to relieve the operating budget from capital expenditures," Qaddoura said.
The debt would fund about $20 million for transportation infrastructure and $50 million for facilities and equipment, according to the proposal from the Indianapolis Bond Bank.
Some of the projects and purchases under consideration for being funded this way include: $11.9 million for the city's Emergency E-911 lease, $8 million for two Indianapolis Fire Department stations, $6 million on solid waste trucks and equipment, $5.7 million for a computer-automated dispatch system, $5.3 million for new police cars, $3.4 million for new voting machines, $3 million for fire apparatus and a $2 million generator for the City-County Building.
The crux of the idea is to renew existing bonds that are expiring soon and the tax levies that fund them. Two existing debt service levies are scheduled to end in early 2018. The city is proposing to continue those levies, according to the Indianapolis Bond Bank.  
If the city issues debt to pay for expenses that typically have been funded within the operational budget, it simply would continue with similar bond payments that are already factored into the city's overall budget.
City officials stressed there would be no tax increase if the bonds were approved.
"I think it's a creative way to get more mileage out of existing revenue sources," Council Vice President Zach Adamson said. "It will free up revenue within our general fund."
Underscoring the urgency of the conversation is the fact that some officials fear the city's credit rating could be downgraded by ratings agencies if the city doesn't address potential shortfalls in its operational budget.
Adamson said relieving stress on the budget is a way to "try to avoid a credit downgrade," which could hamper the city's ability to get low interest rates.
"We have got to do something," Adamson said. "If they downgrade us, our ability to fund future projects will be immensely impacted."
But some council members aren't so sure about the idea.
Republican Jeff Miller said the idea of funding operational expenses separately from capital expenses makes sense as long as the two budgets ultimately "harmonize," but he has "mixed feelings" about the idea of bonding for anything that has a shelf life less than the length of the bond—such as vehicles or technology.
On the other hand, Miller said, if the city lets the bonds expire, its savings from losing that annual obligtion would be relatively small.
Republican Colleen Fanning agreed the city needs to be "sensitive to the ratings agencies to protect our credit" but wants to do it in a way "that saddles the city with the least amount of debt."
"We're going to have to look at things one by one to figure out how to do this in a way that's responsible," Fanning said. "I'd like to reduce the amount of debt we have as a city, but debt isn't black and white. There are some times where debt is appropriate. But I'd like to have an overarching strategy before we take that step."
City officials are still working through the details of the plan and expect to present the bond issuances to the council by November, according to Kathy Davis, city systems engineer.
Please enable JavaScript to view this content.