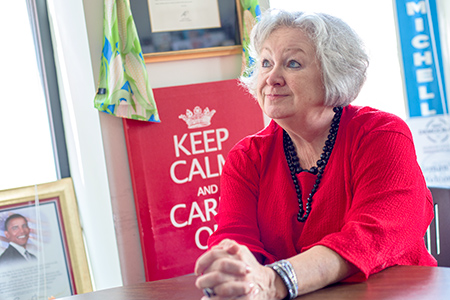 Betty Cockrum's job is not one for the faint of heart.
She's been president and CEO of Planned Parenthood of Indiana and Kentucky since 2002. The Indianapolis-based organization offers reproductive health care and services at 19 clinic sites, some of which offer abortions. That puts Planned Parenthood at odds with abortion opponents, who have launched many legislative and legal challenges against the organization.
In a particularly high-profile case, the state attempted to block Medicaid recipients from receiving services from Planned Parenthood because the organization offers abortions. Planned Parenthood prevailed in that case in 2013 after a two-year legal battle.
And when those challenges happen, Cockrum, 63, is the one out front speaking on behalf of the organization.
It just strikes me that this organization and whoever leads it—you've got to just realize there's going to be conflict involved. You've been here a long time. What keeps you here and what is it that allows you to do these things?
It's just so important that Planned Parenthood be present and be there for our patients. We have about 56,000 patients and we are oftentimes the only health care provider that they see. We offer a more flexible, more accessible and more affordable environment for them and we're certainly perceived as being a comfortable place to go.
We try to be on bus lines and have some evening hours, have some Saturday hours, and not have the waiting times, particularly for those patients who are on Medicaid. They can find out from someone else that it would be six or eight weeks before they could get in. And if you think about the whole reproductive health care portfolio, six or eight weeks often doesn't work.
So what keeps you going in this job? It's got to be a tough job.
It's a challenge. But it's a really rewarding undertaking to know that every day we open our doors and we're there to serve that population and as important is the educational effort that we make to be out there to ensure that at-risk populations know about safe sex and how to avoid STDs and how to avoid unintended pregnancy.
A third feature that's principal in our work is advocacy and a presence in the Statehouse and dealing with the Legislature and then, oftentimes, finding ourselves in the courtroom. But it's just critically important that we be out there as a voice and face in support of access.
Have you ever had a time where things just got so intense that you questioned, "Maybe I should quit"?
Short answer: Yes. When we were defunded several years ago—Indiana was the first legislature in the country to defund—that just started a whole groundswell of media response across the country, and along with it, an incredible response from donors in 48 states and five continents. That involved litigation and the time of uncertainty that goes with that, and getting all the way down to the wire where—are we not going to secure a preliminary injunction and actually have to shut all of our health centers? Any given morning, noon or night, there was media attention.
It becomes physically exhausting and mentally exhausting. Yes, there were those mornings where I would think, "OK, I'm just going to get up and do this again. Whatever this new day brings, I'm going to get up and face it and do the best I can."
So you had to sort of pep-talk yourself some days?
Right here [pats her shoulder], talking to myself.
A lot of people probably know your name even if they've never met you. Is there something that you are willing to share that people would be surprised to know about you?
I'm an introvert. I get pushback on it, but it's real. I've been tested.•
Click here for other interviews.
Please enable JavaScript to view this content.