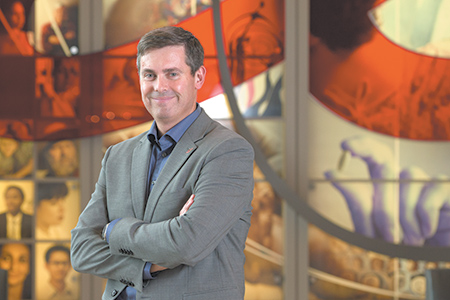 Dave Ricks is about to take on a huge job. On Jan. 1, he will become CEO of drugmaker Eli Lilly and Co., succeeding John Lechleiter, who is retiring after nine years at the helm. Ricks, 49, now senior vice president and president of Lilly Bio-Medicines, will lead one of Indianapolis' largest public companies as it tries to launch new products after a tough stretch of patent expirations known internally as the Y-Z period, so named because it followed what Lilly execs had dubbed Year X: That would be 2001, when the company's Prozac patent expired.
What's your first order of business after becoming CEO?
Execute. We have a great opportunity here. We've come out of the Y-Z period. We've turned over a number of cards, positive data readouts on a number of products. And really, 2017 is a year of execution for us to really fulfill the value we see in those products and get them to patients.
So what exactly are you doing between now and then to get ready for your big promotion?
I've spent a lot of time with John Lechleiter, learning from the master, stepping into the new job and getting my frame there. I'm also spending a fair amount of time outside the company.
It's a unique window when you have a few months to listen with new ears to investors, to key customers. I'm taking a bit of a listening tour with payer-customers and other thought leaders that we work with. And then also spending a fair amount of time with our manufacturing group and our research group, because those are two areas where I haven't had direct oversight before.
Are you going to continue John Lechleiter's strategy of shunning big mergers and acquisitions?
Yes. I haven't a shred of evidence that any of those big mergers have created value for shareholders or other constituents. They've probably destroyed value. And frankly, when I speak to our largest investors, they think the same thing. Although you can get some short-term costs savings by closing plants and reducing operations, that's not a sustainable path.
We have a business that, when you do it well, you make a difference for people but you can also produce good margins. So the key is launching products and growing, not acquiring things and cutting costs.
What disease areas do you plan to invest most significantly in over the next five years?
We've spent a lot of time in the last seven or eight years narrowing down from nine areas of interest for the company to five.
Of course, diabetes has been a huge part of Lilly for a long time; that's a key area for us to invest in. Oncology is another area of keen interest and there's lots of exciting science happening there.
In the group I'm leading now, immunology—which is treating auto-inflammatory conditions like psoriasis and rheumatoid arthritis—[there's] a lot of promising science behind that. And then Alzheimer's disease and neurodegeneration; we have a deep and broad portfolio there. And then an emerging one is pain.
It's a smaller effort in an earlier stage, but there's a really big public health crisis around chronic-pain management. Lilly is working on new modalities to treat chronic pain without the problems of addiction and other issues with opioids.
What's your favorite question to ask job candidates?
The thing I've learned through the years is that if someone really wants something, they tend to do pretty well. So I ask them why they want to work in this company and in this industry. I think motive is pretty telling. No matter their skill or background, if they're highly driven, they tend to do pretty well here.
What do you enjoy doing in your free time?
Most of my free time is occupied in being a parent. I have three kids, including two teenagers, so that's a full-time effort when I go home.
I stand on soccer fields and cross-country tracks and I'm shuttling them around. For a pastime, I've grown up as a backpacker, and I like trekking trips. My father and I started that when I was a kid. I'm a former Eagle Scout. My sons are into that as well. So that's something we spend time on when we get a week or so to get out West and walk up a mountain.
Favorite sport to watch?
College basketball.
What kind of car do you drive?
I have a 7-year-old Audi. And I like it, so I'm going to keep it for a while.
What's your favorite property in Monopoly and why?
Tennessee, New York and St. James—the orange ones right near the Free Parking. I like those because everyone always lands on them. I'm a capitalist. I like customers.•
Click here for other interviews.
Please enable JavaScript to view this content.