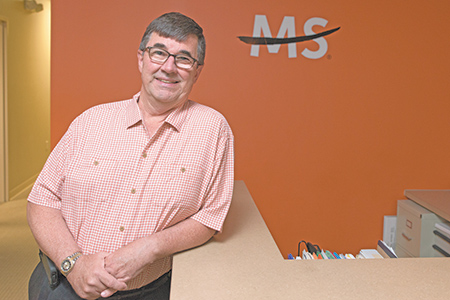 Businessman Jay Brammer's adult daughter was diagnosed with relapsing-remitting multiple sclerosis in January 2014 and since then, he's emerged as one of the top fundraisers for the Indiana chapter of the Multiple Sclerosis Society.
Brammer, 59, runs a 60-person fundraising team called Mission Possible. He also runs Crown Hill Management LLC and, with his personal and Crown Hill team donations combined, he expects to contribute more than $125,000 to the MS Society this year.
Mission Possible primarily raises money at the not-for-profit's annual MS Walk and at an independent music festival it hosts.
What was going through your mind when you learned your daughter had MS?
When our daughter told us she had MS, I had a very vague understanding of the disease but knew it was a lifelong disease that slowly takes away people's abilities. So I spent the next few days trying to research as much as I could about it. 
It's a disease where your immune system is basically attacking the lining of your nerves. People are affected differently, and therefore, it's tough to find a common link. But they've made great strides. Ten to 12 years ago, there were no medicines; today, there are seven or eight that slow the progression of the disease.
Based on your experience up close, what is the most difficult part about having MS?
There are two types of MS. One's remittent, where every so often you have what's called a flare. That's where damage is being done and you may be months before another flare. People who are remittent tend to have a much slower loss of physical abilities, but they still live with fatigue, the inability to handle heat and stress.
And there's progressive, where you basically don't have an in-between. So it's a faster, debilitating, lifelong disease. If you have remittent, one of the worst things you live with is the fear that it can become progressive. You have about a 20 percent probability.
Some people donate to causes, but you've taken it a step further and became an active fundraiser. Why?
As a parent, I want to try to be part of the reason we find a cure. In my research, it was quite obvious that the way to accomplish that was by financially supporting the MS Society. They have been involved in every major milestone of progress and they fund much of the early-stage research.
I liken it to a venture capital firm or an angel investor. Research is a very risky endeavor. The large companies spend money where they believe they have the greatest return and opportunity. A lot of this is about trying to spend money where you may not end up with a product to sell, but you can improve lives.
When was your first fundraising event? What feelings did you have around that?
We found out in January 2014 and the first fundraiser walk we participated in was in April 2014.
What was special about the MS Walk is that it brings together a large number of people all with a common cause, which creates a community. One of the things about the MS Walk that's different compared to many walks is, you have a number of people where, because of the disease, it's much more difficult. And it's inspirational to see people in wheelchairs, walkers or whatever that are out there wanting to help find a cure.
What's one of the biggest lessons you've learned from having a family member with MS?
The obvious answer is, people take their health for granted. The less-obvious answer is, the inspiration you can get from those affected by a disease who aren't willing to let that stop them.
How has operating Crown Hill helped you and some of the causes you're involved in?
The first year we went to the Walk MS event, there were some people who expressed concern about a cemetery being there. And I tried to express that, as a cemetery, we get to see how important families are. You have generations, including grandkids, coming to visit. And our involvement is about supporting our families. We have, not just my family, but three or four other families of Crown Hill employees with a connection to MS. So, for us, it's supporting family and being there.
Why were people concerned?
We have a large team for Mission Possible, over 60 people. And I try to make it an event rather than just a fundraiser. So we have two of our Crown Hill tents for people to be under, eat, hang out, whatever. I think the concern was, "What is a cemetery doing here?" They probably thought we were there to advertise, and it was quite the opposite—we were there to help find a cure.
So has that concern changed? Do some people embrace you now?
I think that is much more true. But I can't answer for every single person. I've actually had people, this past year, reach out to me at the Crown Hill tent to say thanks for supporting, because they know we're part of Mission Possible and they've seen how much money we've raised.•
Click here for other interviews.
Please enable JavaScript to view this content.