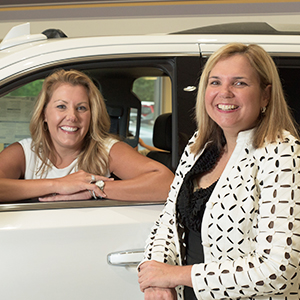 Through five generations, women were never too involved in running Hare Chevrolet.
But Noblesville natives Monica Peck and Courtney Cole changed that when the sisters bought the business in 2008 from their parents—Dave and Jackie (Hare) Cox—and became the sixth generation to lead the company.
Using a snappy ad campaign—which dubbed them the Sisters of Savings—the women have nearly tripled the dealership's sales and become Indiana's top-selling Chevrolet dealer, according to General Motors. They've opened an Isuzu dealership and a truck center that works on fire engines, ambulances and other commercial trucks.
But their biggest battle has been off the lot. In 2014, Cole was diagnosed with stage 3 lung cancer at just 42 years old, despite never having "smoked a single cigarette," her sister said. This year, the cancer entered stage 4 as it spread to her bones.
But Cole, 45, and Peck, 42, meet each day's challenges with that sense of humor radio listeners hear in their ads and the same competitive fire that drove them both to become college athletes.
Cole wouldn't even let a recently broken arm—an arm weakened from the bone cancer—keep her from this interview. Nor would the sisters be derailed by a fire that caused more than $1 million in damages to their truck center just days before.
How did the philosophy change to where women can run the business?
Peck: It's the difference between the '60s and the '90s. It was very much a man's business. My mom and her sisters were all college grads, but … the thought was, women went to college to become a teacher or a nurse.
We both went to business school at [Indiana University]. We came back and thought, "We can go work for someone else or go to work for the family business," and it's worked out since then. We're still a minority as female executives and owners in this business, but we think females do very, very well in this business.
Cole: My mom and grandmother both could have been fantastic [running the business], but it just wasn't accepted, which is unfortunate.
Why do you think women do very well in this business?
Peck: Car buying is a very emotional purchase, and maybe it sounds sexist, but I think women are more in touch with people's emotions. And I think women are detail-oriented and do a good job figuring out why people make the decisions they do.
What roles do you two have?
Peck: I handled what's referred to in our business as the fixed side of the business: service, parts and body shop. And she was more on the sales and advertising side. Courtney really dug into the whole internet advertising. We've had those lines of divisions for quite a few years. With her illness, she's been in and out the last 2-1/2 years, so it falls on me.
How do you stay focused on the business while dealing with Courtney's illness?
Peck: We've put together a phenomenal team. We have about 255 employees right now, which blows my mind every single day. You step up and do it. There are a lot of people who rely on this place for their household income. While Courtney is fighting quite a battle, there are a lot of people that have battles going on. You just have to keep at the task at hand.
Characterize the growth Hare Chevrolet has experienced since you two have taken over the business.
Peck: We took over the business in January of 2008, right before the wheels came off the economy. We joke about that.
We sat here signing these papers and we both had personal loans and personal guarantees and both of those things just blew my mind because they were numbers I wasn't used to looking at. My dad said, "The only thing that concerns me is that you guys have never known hard times in this business." Well in 2008, GMAC, which was our bank that does our loan that buys all the cars that are on the lot, went bankrupt. GM went bankrupt. Cash for Clunkers with the government owed us over $400,000 at one point in time. That kind of cash receivables makes a lot of businesses go out of business. Obviously, after that, there was only one way to go. Well, I suppose two: out or up.
Cole: I can remember when I first got in the business, if we sold 140 cars—new and used—in a month, that was a good month. Now, we sell more than 500 a month. We've seen a lot of growth in this area and we've done a lot of studying on advertising that has pushed us into the limelight.
What's the biggest change you've made in the business since taking it over from your parents?
Peck: The culture. We try to get high energy with a focus on a lot of training and constant learning. Courtney and I put ourselves through a lot of training. We invest pretty deep in our management ranks in training. That's probably the biggest difference.
Cole: Obviously, when we changed our advertising and put ourselves out there, that was a big change. We put our crazy advertising out there in 2010 and that got us rockin' and rollin'.
What was your biggest takeaway from the Great Recession?
Peck: Be able to adjust quickly on your expenses. Don't get yourself locked into long-term contracts, and be able to pull back on the reins really quickly on expenses. You can't save your way to a profit, but those long-term expenses can take you over really quick.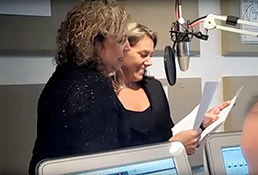 The Sisters of Savings have used radio ads to boost sales from about 200 cars per month in 2010 to more than 500 cars per month now. Cole said some customers groan that they "can't stand those ads" but admit they drew them to the lot. (Photo courtesy of Hare Chevrolet)
Who came up with Sisters of Savings?
Peck: We had a lot of people saying, "So who are you?" Neither one of our last names is Hare. We had married names. We had a ton of people ask us if we were life partners. So how do you go on the radio and say who and what you are? You have 60 seconds. Courtney said, "I have an idea: Let's run a Facebook contest." And someone threw out Sisters of Savings.
That poor person only got a free oil change. They probably deserved a car. [laughter]
What was the growth like after the Sisters of Savings campaign started?
Cole: We went from selling 200-plus cars a month to 400-plus cars a month in a short amount of time. Now we're selling 500-plus cars a month.
Why do you think Sisters of Savings was so catchy?
Cole: I'm not sure it was about the Sisters of Savings part of it. We just ran those ads a crazy amount. They do get your attention because they're different from what everybody else is saying.
How much did you increase your ad budget when you debuted Sisters of Savings?
Cole: We basically doubled our ad budget.
How big is your ad budget?
Peck: It gets bigger as we sell more cars. It's a cause-effect relationship. But it's not as big as some of our competitors', because we don't buy TV. We just do radio and online.
Cole: We spend over a hundred grand a month. That's about all I want to say. We spend a lot, but our ad budget is light for the number of cars we sell.
Who writes the ad copy?
Peck: We have an agency down in Florida and they'll only do one dealership per market.
Do you always like what you're reading on air in the commercials?
Peck: There are times when I get the script and I am like, "No way!" [laughter] And Courtney is the one that is all out there. She'll do anything.
Cole: My only question to Monica is, "Do you want to sell 200 cars a month or 500?" A lot of people come in and say, "Aaaah, I can't stand those ads! But I'm here." You just have to laugh at yourself because it works.
Why is radio such a good medium for you?
Peck: With radio, you're catching people in their cars. And you're tugging on that emotional string: "Are you driving a car you hate?" You'll find that line in almost every ad we run.
How are you doing, Courtney?
Cole: I've had some setbacks and it gets frustrating. But considering it's stage 4 lung cancer, I'm doing good. You just have to fight it and keep going. I think my having cancer has impeded a lot of our growth, but you just keep fighting and are thankful for what you have.
How do you stay focused on the business?
Cole: At times, it's difficult. When you go through treatment, you're just in survival mode. It can be hard and you get depressed. When times are good, you couldn't be more thankful, and when times are bad, you just hang on tight. It beats the alternative—being dead, right?
Courtney, what's your biggest takeaway from your battle with cancer?
Cole: To be thankful. To smell the roses a little bit more.
What's your overall prognosis now?
Cole: It's hard to predict the future and you have to be thankful for every day, but they have the target drugs now—they're phenomenal. The biggest frustration is, lung cancer is the No. 1 killer and yet it doesn't get a lot of funding because we tend to think you can [prevent] it. But there are tons of non-smokers that get lung cancer and that's not well-known.
What kind of cars do you drive?
Peck: Practical ones. We both drive Tahoes. It's the most practical when you're carting kids and all their things.
What's your favorite car?
Peck: Oh, geez, nothing beats a Corvette. Make that a convertible Corvette. They're a lot of fun, but they'll get you in a lot of trouble.
Cole: When you're in this business, after a while, a car is a car is a car. I had my little bout with a Corvette and I can't keep my foot off the accelerator. After I got all my tickets, I decided that probably wasn't such a good idea anymore.•
Click here for other interviews.
Please enable JavaScript to view this content.