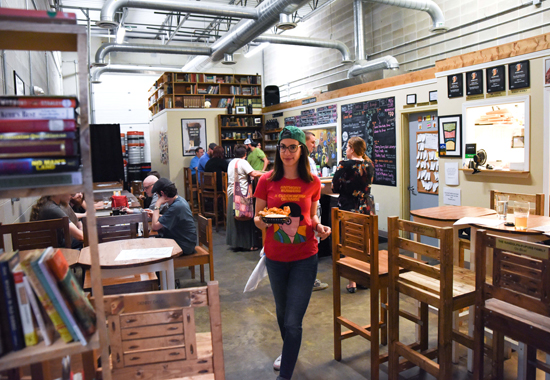 Indianapolis-based used bookstore chain Books & Brews, which was in fast-expansion mode just four years ago, will be down to five locations when its Carmel store closes this week.
Owners Alex and Lori Stanley, who opened the first Books & Brews franchise  in 2017, cited the effects of the pandemic for their decision to close their business in Carmel City Center at the end of the day Saturday.
The closure will leave Books & Brews with five stores, down from 10 just two years ago. Stores in Broad Ripple, Mass Ave, Muncie and Oxford, Ohio, also have gone out of business.
The chain's flagship store on the northeast side of Indianapolis remains open, as do locations on the south side of Indianapolis and in Zionsville, Brownsburg and Noblesville.
"The pandemic has brought many changes to our lives, including that of this business," the Stanleys wrote in a social media post. "Our customers have been amazing and supported us through those tough beginning months and thereafter. But as the pandemic continues, we have decided to close B&B Carmel."
The Stanleys said they were giving away books and board games and selling remaining furniture, glassware and merchandise.
Books & Brews was launched by owner Jason Wuerfel with a single store in March 2014. He opened another company-owned store in Zionsville in 2016, then began adding franchised stores in 2017, starting in Carmel.
In addition to books, the stores offer craft beers and locally sourced food, and encourage social gatherings through trivia contests and board games. The Stanleys said they hosted more than 40 fundraisers for not-for-profits during their four years in business.
Wuerful also owns downtown brewery Rad Brewing Co., which is scheduled to close Nov. 27.
Please enable JavaScript to view this content.