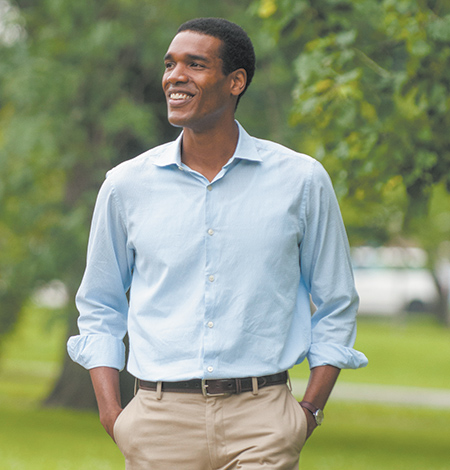 Indianapolis native and Wabash College graduate Parker Sawyers, 33, had been cracking up colleagues for years with an impression of Barack Obama. But when the call came to audition to actually play the man who would become POTUS, the star of the new movie "Southside With You" found himself with the biggest challenge of his budding career.
The film is a low-key, intimate look at the first date between Barack Obama and then-Michelle Robinson. A hit at film festivals, it earned national release in late August. (Read the review in Lou's Views at ibj.com.)
Can you talk about the voice a bit?
I have a similar voice to his. I don't sleep a lot—I think that's why he has those pauses. I can draw on that. I started from there. I did speeches to make people laugh on sets for years before this popped. It was good to have that to work from, but then I had to work away from it. To be a 28-year-old student—ambitious, intelligent—but a student.
The first time we see you in the film effectively blurs the line between you, the actor, and Obama, the man. How carefully crafted was that moment?
Yeah, it's a very humanizing moment designed to show you a 28-year-old Obama, very unpresidential. Chain-smoking while reading a book. No veneer. No nothing. [Director/writer] Richard Tanne managed every single moment, every beat, in the film. He's a terrific director and artist.
I assume, like with most films, "Southside With You" wasn't shot in sequence.
The opening and closing were shot in the same day. We had the set. And the rest was definitely shot out of sequence.
In a film as delicate as this one, was it tricky finding the subtleties? 
Every day, I would draw a line graph of the beginning of the scene we had to shoot and note where I was. "We just left the car." "She's mad at me." "What's my intent?" "What am I trying to do here?" It was a strange system, but it worked.
Your mother was involved in politics [Paula Means, Paula Parker-Sawyers at the time, was deputy mayor of Indianapolis in the Republican William Hudnut administration]. Did you consult with her when you were auditioning for the part?
My sister and mother saw [an announcement about the film] in the news. "Have you heard?" "Did you send a tape?" Ah, man, I didn't need any of that. I didn't even tell them I was up for it. Didn't tell them that I sent a second tape. Didn't tell them about the chemistry test I was flown in for. I waited until the day it was going to be announced to tell her. She was over the moon. I have kids; she was just happy I had a job.
Any high school acting while at North Central?
No. Never. I've only been acting for the last five years. I was modeling at 19-20. Did two Subway commercials. All I had to say was "$2.29."
You've done six movies and a video game since shooting "Southside With You." Is it tricky to get back into the groove to talk about it?
I've seen it a few times now and I'm getting a better idea of what we did. While there, we were focused on getting the job done and doing it to the best of my ability. It's the biggest part I've had. I was on the set 16 days of a 17-day shoot. I've played a lot of soldiers. Small parts. This is something that makes people smile. It's fun. I like talking about it.
Still no word from the first family?
I hope they watch it. I'm actually more interested in what Michelle thinks. I feel like she would be more constructively critical. Not to say that the president wouldn't. [Pause] It's wild for me to even say that. I can't believe I'm in this position that I can even consider that. I'd be honored if they just watched it, enjoyed it and didn't stop it midway.•
Click here for other interviews.
Please enable JavaScript to view this content.