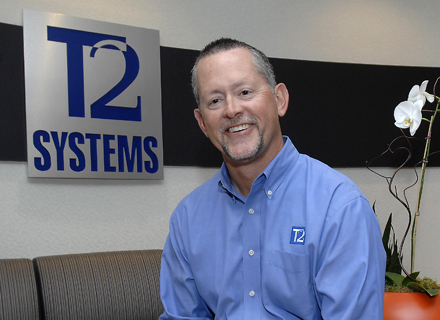 A private-equity firm has agreed to acquire T2 Systems Inc., an Indianapolis-based provider of parking management software that has more than 1,100 customers worldwide.
San Francisco-based Thoma Bravo LLC did not disclose financial details of the deal. It will purchase T2 from Charlotte, North Carolina-based Pamlico Capital, a venture capital firm that initially invested $28 million in the company in 2012.
Mike Simmons, one of the company's co-founders, said Thursday he will step down from his position as CEO following the transaction. Adam Blake, the firm's president and chief operating officer, will become CEO.
"We are grateful for the wonderful platform that founder Mike Simmons has established over 20-plus years, and are looking forward to working with him and leveraging his deep sector knowledge as he plays an active role in transitioning the business to Adam's leadership," A.J. Rohde, a partner at Thoma Bravo, said in a written statement.
"Through backing the existing team, we plan to actively support doubling-down on key product and customer investment through organic and inorganic initiatives." 
Founded in 1994, T2 Systems makes software to manage fee collections and enforcement for parking violations for universities, governments and hospitals. IBJ recognized T2 last year as one of its Fast 25 companies after the firm posted a three-year revenue-growth rate of 147 percent. Its 2014 revenue was $60.3 million, roughly triple what it reported in 2010.The company said it had 234 employees as of 2014.
Since Pamlico's $28 million investment, the company has been on an acquisition spree. In early 2014, it bought a pay-station company in Vancouver called Digital Payment Technologies, which gave it a presence in on-street meters and pay stations. Last year, it purchased Orange County, California-based Case Parking, whose services include a counting mechanism that triggers a smartphone app that notifies people where parking spaces are available.
Blake said in a written statement that the resources and flexibility provided by Thoma Bravo will allow T2 to "expand our long-term strategy" and "make us very excited about the opportunities that lie ahead."
Thoma Bravo's acquisition of T2 marks the fourth investment made by the firm's Discover Fund since it debuted earlier this year. The Discover Fund focuses on growth-oriented technology companies in the lower middle market.
Previous Discover investments include supply chain operating network Elemica, cybersecurity provider Bomgar and analytics company Infogix.
Simmons said in a statement he had a "great run" at the company.
"My goal in founding T2 was to provide more effective solutions to our customers' parking problems," he said. "Over the past 20-plus years we've built a great team, created a positive and productive workplace, consistently achieved our corporate goals, and are constantly adding new services and incorporating the latest technology to design better parking solutions."
Goodwin Procter LLP is serving as counsel for Thoma Bravo. The Carlyle Group, in conjunction with Madison Capital Funding, provided the debt financing for the transaction.
Please enable JavaScript to view this content.