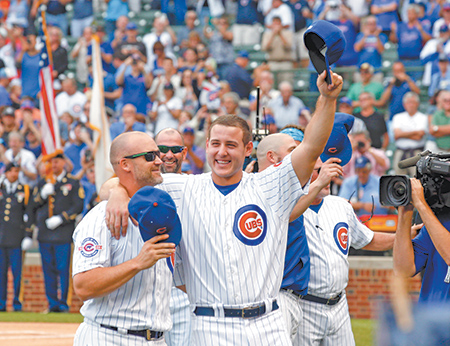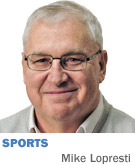 We interrupt the football season—where the Colts zigzagged through September, Notre Dame went to condition red, and the best FBS record in Indiana belonged to Ball State— to mention that October is here. That means meaningful baseball, if anyone can stay up late enough to see it.
Lots of remarkable postseason droughts being lugged into the month. Consider the possibilities.
We could see the first Cleveland Indians championship in 68 years, going back to the Harry Truman administration.
Or the first Texas Rangers championship in history.
We could see the Dodgers—and this is hard to believe, given all the glitz and glamour (not to mention money) in Los Angeles—play in their first World Series in 29 years. Or the Washington Nationals and erstwhile Montreal Expos make it for the first time, curing a futility that has stretched back five decades, in two different countries.
Let's see, have we left anyone out?
Oh, yeah.
The Chicago Cubs are No. 1 in the standings, No. 1 in the power rankings, No. 1 in a lot of important statistics … and No. 1 in ghosts. They have home-field advantage in the playoffs, which could be significant, having gone 57-24 in Wrigley Field. As of Sept. 27, they had the best record in the sport—by eight games—and a staggering 250-run differential. Since the baseball season is often called a marathon, the Cubs look like the runner from Kenya. There is every reason to believe they could pull this off.
Well, except one. Legions of Cubs fans in the Indianapolis area understand. They're resigned to fidget through a tense month, on the perpetual lookout for goats or black cats or Steve Bartman. To Colts fans, Super Bowl XLI seems like ages ago. You can understand, then, a certain lack of confidence when the last championship was 116 years back.
But what if the universe has truly changed? To begin the month that might shake baseball, we go back to 1908 to see what the world was like the last time the Cubs were kings.
As those Cubs celebrated, there was one telephone in this country for every 11 people. To communicate, it was more common to go to one of the 23,853 Western Union telegraph offices.
Butler College had 481 students enrolled. Indiana University, 2,564; Purdue, 1,882.
Notre Dame went 8-1 in football, beating, among other opponents, Wabash, Franklin, and Chicago Physicians and Surgeons.
The American flag began the year with 45 stars. New state Oklahoma was added in February. Arizona and New Mexico were territories.
Indiana's population was 2.7 million, more than California, and four times more than Florida.
Indianapolis had just under 233,000 people. Las Vegas had under 100. The Indianapolis Motor Speedway was a farm. Hinkle Fieldhouse was a park. Carmel had had electricity for four years.
The U.S. population was 86.8 million. Today, we need only California, Texas and New York to reach that number. 
James Stewart, Bette Davis and Lyndon Johnson were born that year. Mark Twain was alive. So were the widows of George Custer and Stonewall Jackson.
Butch Cassidy and the Sundance Kid died.
Fourteen days before the Cubs won the World Series—in front of a crowd of barely 6,000—the Ford Model T was introduced. It cost $850.
The Summer Olympics in London lasted from April to October, and included figure skating. An American runner, John Baxter Taylor, became the first black athlete to ever win a gold medal, in the 4×400 relay. He died from typhoid at 26 before the year was out. The average life expectancy for an American man was just under 50 years.
Designs were accepted for construction of the largest steamship the world had ever seen. It would be called Titanic.
The men's world record in the pole vault was 12 feet 10 inches; in the high jump, 6 feet 5-5/8 inches.
The leading cause of death in America was tuberculosis. Diarrhea and pneumonia were in the top five. Cancer was sixth. Fewer than 400 people were murdered in the entire country. Chicago hit 500 for this year over Labor Day weekend.
The mayor of New York City vetoed a bill that would have made it illegal for women to smoke in public. The mayor of Cincinnati was quoted as saying, "No woman is physically fit to run an automobile."
Mother's Day was introduced, 12 years before mothers would be guaranteed the vote by Constitutional amendment.
The first fatality of an airplane passenger was recorded. The pilot was Orville Wright.
A 108-pound Scot named Fred McLeod shot 322 at the U.S. Open. He won, and earned $300.
Chicago had twice as many unpaved streets as paved.
There were 68 reported lynchings in the United States.
Oil was discovered in the Middle East.
The FBI was born.
There were twice as many blacksmiths in the nation as there were attorneys.
Among the things not yet invented: the crossword puzzle, the bra, instant coffee, traffic lights.
And also, the curse of the Cubs. The end of that might be in sight. Either that, or one of the worst disappointments yet. October is here to figure that out.•
__________
Lopresti is a lifelong resident of Richmond and a graduate of Ball State University. He was a columnist for USA Today and Gannett newspapers for 31 years; he covered 34 Final Fours, 30 Super Bowls, 32 World Series and 16 Olympics. His column appears weekly. He can be reached at mlopresti@ibj.com.
Please enable JavaScript to view this content.