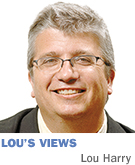 A few years back, I left the Broadway production of "Peter and the Starcatcher" with a smile on my face. More recently, I left the Phoenix Theatre's production (through Oct. 23) with a similar smile but also with tears in my eyes. And the feeling that I'd seen two different plays with the same name.

While both productions told the origin story of Peter Pan via the same script, each became airborne for very different reasons.

Broadway's production offered a blast of a star turn from Christian Borle and a marvelous sense of theatricality. While the disastrous "Spider-Man" musical just a few blocks away promised flight via an elaborate system of wires, "Starcatcher" soared through the magic of imagination—even if the play itself proved forgettable and a bit difficult to follow.

The low-tech special effects, for the most part, are re-created at the Phoenix—a cat flying on an obvious string, for instance, and a tight ship cabin defined simply with a square of rope. But in this more intimate—and appropriate to the material—setting, they are less attention-getting. (I suppose that's because, in lower-budget theater, such creativity is a necessity, while on Broadway, it's an unexpected choice.) The laughs are still here, too, as are a few contemporary references that are wholly unnecessary.

What I didn't feel in New York was the show's heart. What came across strongly at the Phoenix was the spark that leads a kid to such imaginative adventures, the loneliness and desire to have an impact on the world that can boost or drag down a child, and the weight of what is gained and lost by growing up.

Like me, you might be tired of Peter Pan retellings and variations (the recently televised version of the musical was enough reason to swear off the story forever). But the Phoenix production is less about the boy who wouldn't grow up and more about the melancholy knowledge that becoming an adult is unavoidable.

"Peter and the Starcatcher," in this production, reminds us of the joy of seeing a child transform a stick into a word or a pile of pillows into a mountain.

Seeing it might well make you feel less lost.

-------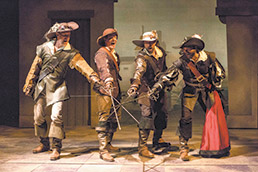 Yes, you are counting correctly. That's four swashbucklers heading the cast of "The Three Musketeers."
(Photo courtesy of Zach Rosing)
Another kind of adventure is happening at the Indiana Repertory Theatre, where "The Three Musketeers" is swashing and buckling through Oct. 15.

Catherine Bush's adaptation of Alexandre Dumas' novel is more Classics Illustrated than theatrically adventurous. And while a few plot points and character details have been rearranged or omitted, there's nothing here to bother purists or intimidate newcomers—even one of the novel's more shocking and potentially off-putting plot turns is included (I'll leave out the details to avoid spoilage).

For those who know only the title, "The Three Musketeers" is really the story of a would-be fourth, D'Artagnan, a country boy seeking a place on the team but stumbling into trouble involving no less than the Queen of France.

The rowdy trio of the title soon befriends him. Intrigue and skirmishes follow, alternating with enough character detail so we can keep track of who is fighting whom.

A few personalities pop (David Folsom is a charming rouge as Porthos and Elizabeth Laidlaw a formidable, not-to-be-trifled-with Milady De Winter), but the real stars here are costume designer Devon Painter and fight director Paul Dennhardt, each bringing style and splash to the stage.•

__________

This column appears weekly. Send information on upcoming arts and entertainment events to lharry@ibj.com.