The NCAA has made two major changes in its marketing strategy in the last six months, with the latest kicking off this football season.

To get in front of the growing audience for college football, the NCAA for the first time this year debuted an ad campaign in the fall rather than during the Final Four basketball tourney, which it has historically used as a showcase for its new television commercials.

Also, during last year's Final Four, the NCAA for the first time used celebrity endorsers—retired basketball star Shaquille O'Neal and tennis icon Billie Jean King—in its TV ads. NCAA officials declined to say if the celebrities are paid.

This fall, the NCAA has trotted out another celebrity endorser—using former football great Jerry Rice to tout the value of a college education. In the ad, Rice notes that only 2 percent of the more than 480,000 NCAA college athletes will turn pro in their given sport.

In the NCAA's other new ad, women athletes promote female empowerment. During the closing segment, two basketball players defiantly say "genders don't play sports, athletes do."

The ad campaign isn't cheap. The two newest ads, which were shot in Los Angeles this summer and overseen by New York ad agency SS&K, cost just more than $1 million to produce. Due to its agreements with various networks, the TV air time doesn't cost the NCAA, which is a major savings.

The ads are airing on ESPN, CBS and conference-controlled networks such as the Big Ten Network and SEC Network.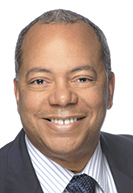 Williams
The change in strategy is part of a plan launched 18 months ago to have all ads trumpet three main "pillars" of the association: academics, fairness and well-being, said Bob Williams, the NCAA's vice president of communications.

"There are a lot of people who try to frame our mission in a way that isn't accurate. We want to try to ensure as many people as possible understand what the [NCAA's] focus and mission is."

Shifting the image

The marketing changes are a response to some hits to the NCAA brand.

"The whole question of amateurism and the exploitation of student-athletes still swirls around the NCAA," said Larry DeGaris, director of sports marketing at the University of Indianapolis. "This is a really important move for the NCAA ... and will go a long way in determining their future brand value."

The NCAA appears bent on trying to pivot the conversation from commercialization to the amateur ideal of college sports, DeGaris said.

"There is what some would say is a small minority of people who think college sports should be professionalized and that college athletes should be paid, and the NCAA wants to keep that a small minority," he said. "The NCAA brand rests on amateurism and they want to keep it that way."

A recent academic fraud case at the University of North Carolina and the scandal at the University of Louisville in which prostitutes and strippers were used to recruit men's basketball players has added fuel to the jaded public opinion of the NCAA and its member schools.

Former Boston Globe sports columnist Bob Ryan, who is a regular contributor on ESPN, said the NCAA's image is "at an all-time low." Ryan thinks that image makes it hard to endorse college sports.

"Over the years, they've done a lot of damage on a lot of fronts," Ryan said. "It will take more than a creative ad campaign to repair their image in a lot of people's eyes."

The NCAA has some evidence celebrity endorsers could be effective in bolstering the group's brand. Roughly half of the respondents in focus groups said they had a more positive opinion of the NCAA after seeing the ads featuring the celebrities, Williams said. That compares to about 25 percent of focus group respondents who said they had a higher opinion of the NCAA after watching earlier ads without celebrities.

"So far the response on the new ads has been extremely positive," Williams said.

Jerry Rice was chosen, Williams explained, because he represents academics, fairness and well-being.

The new ad trumpeting women's empowerment also has been receiving "very high marks" from viewers, Williams said.

All about marketing

The Indianapolis-based NCAA is a not-for-profit organization, but the association and its member schools depend on revenue from broadcast and sponsorship deals that are driven in part by the group's brand value, sports marketers said.

"This is classic corporate branding. It's all about perception," said Indianapolis-based sports marketer David Morton. "There's a lot of value in that perception, no question. This is clearly a move to protect the value of that integrity."

But Morton isn't certain the NCAA is on the right track with its messaging.

"When I see the ads, I keep asking: What's the call to action?" he said. "What is it the NCAA wants people to do? That's not clear to me."

DeGaris thinks bringing on celebrity endorsers and kicking off NCAA ad campaigns in the fall are two smart moves.

"The campaign certainly makes sense from the standpoint of public perception," DeGaris said.

There are several reasons why DeGaris likes the new tact. First, he said, the college football market is enormous [the biggest games attract 25 million to 30 million viewers, according to Nielsen], and while there is some overlap with the college basketball audience, it's not 100 percent.

"There are a lot of college football fans—especially in football rich parts of the country, in Texas and the southeast—that don't watch much, if any, basketball," DeGaris said.

He also said the timing of the ad release is smart.

"Why wouldn't the NCAA launch its new campaign in the fall—the start of the school year and the start of the college athletics year," DeGaris said.

DeGaris said the use of stars like O'Neal and Rice is especially effective when their ads are shown during the sporting events where they made their names. "Nothing builds brands or drives sales like themed advertising to target markets."•