CARMEL—Just about every room in the Monon Center offers a view of the surrounding park and Monon Greenway. And if you can't see the outdoors, there's a good chance you'll be bathed in natural light.

Windows, lots and lots of windows, help the state-of-the-art recreation complex achieve its nature-centric feel. They don't help Mark Westermeier, director of Carmel-Clay Parks and Recreation, with his new task of making the Monon Center more business-like.

The 146,000-square-foot building is the centerpiece of Carmel Clay's $55 million Central Park. The only problem, according to Westermeier, is that during seven years of planning, ensuring the Monon Center would break even was not the top priority.

If it were, he said, "We certainly wouldn't have this much glass. It costs way too much to clean it."

After ending 2008 with a $650,000 deficit, and facing a larger shortfall this year, the Monon Center is under pressure to generate more revenue through user fees. The Carmel-Clay Park Board is considering a business plan for the first time since opening Central Park in May 2007.

"It's critical," Westermeier said. "We needed it a long time ago."

The Hamilton County community was not the first in Indiana to build a souped-up recreation complex, but the Monon Center quickly drew attention in the parks world for its architecture and environmentally friendly design. The $24.5 million building is divided into two campuses, which are connected by a walkway and lounge area that overlooks the Monon Trail.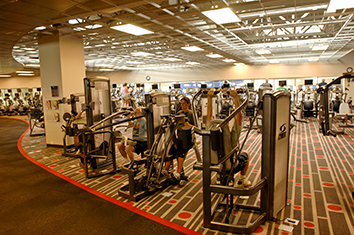 Top-flight fitness equipment is one of many offerings at the Monon Center in Carmel, which needs more revenue. .

"The Monon Center is one of the nicer ones in the United States, in relation to how it was built and its uniqueness," said Leon Younger, an Indianapolis-based parks consultant.

The Monon Center was an early adopter of green design practices, such as filtering swimming pool water across ultraviolet light to kill mold and bacteria and reduce the need for chemicals. And it doesn't skimp on any of the amenities that have become standard at publicly owned facilities in Colorado, the Southwest, St. Louis and Chicago.

Community rec centers compete with commercial gyms by offering top-flight fitness equipment, classes and pools. Their water parks typically feature lazy rivers and towering slides. The Monon Center's lushly landscaped, 10-acre water park cost $4.5 million.

"More and more towns and cities would like to build something like this," said Clay Chafin, director of parks and recreation in Plainfield, which opened a rec center and outdoor water park, Splash Island, in 2004.

The rec centers have the potential to become regional attractions. The Monon Center and Plainfield's center are open to anyone, though passes are cheaper for residents.

Neighboring towns might envy the amenities, but few would want the task of balancing community demands with an imperative to collect as many fees as possible. The Carmel-Clay Park Board hired Younger early this year to draw up a business plan. Before it can be put into practice, the board will have to decide how much of the original vision it's willing to sacrifice.

Parking, for example, was purposely limited to encourage kids and families to reach the center from the Monon Greenway, Westermeier said. On a hot day, however, the center's 591 spaces aren't enough to accommodate fitness center users, plus the water park crowd.

Westermeier said he's seen people who were frustrated with the lack of parking pull away, and he's working on an overflow parking plan.

"If you are trying for 100 percent cost recovery, you cannot make philosophical decisions," longtime park board member Sue Dillon said. "There's going to be some interesting discussion on this."

Take two

In addition to a "nestled in nature" design concept, the Monon Center strove to offer a variety of community services. The east campus is capable of hosting business meetings, formal dinners, plays and pottery-making.

The building is the result of years of public meetings and input, Westermeier said. "Most of those ideas are in this building."

But not all those ideas are working. A 2,100-square-foot café near the west-side entrance went unused after the first year.

The café was supposed to make the Monon Center a destination for trail users. As it turned out, potential operators aren't interested in setting up shop. The space isn't visible from the Monon Center entrance, and it would have to compete with traditional park concessions.

Younger thinks the Monon Center could boost revenue by converting the space for fitness use. That might be one of the simpler solutions the park board has to consider.

On a recent weekday morning, one classroom was full of little girls learning cheerleading moves. Parents and other kids milled around in the hall, across from the entrance to a banquet room that includes a stage, movable walls and a catering kitchen.

Westermeier said the Monon Center's unusual mix of activities has made booking black-tie events and business meetings difficult. The center, which uses the Ritz Charles in Carmel as its caterer, also faces competition from area hotels.

If the Monon Center is going to be in the catering and event business, Younger recommended striking deals with multiple caterers. To really maximize revenue, Younger said, the center should convert its meeting space into a day care. That's a common source of revenue for Chicago-area rec centers, Younger said, and it would feed into Carmel-Clay's successful after-school programs.

Startup costs and other details of Younger's recommendations were not available because the Carmel-Clay Park Board refused to share the proposal it received earlier this month.

Most rec centers, including the one in Plainfield, operate in the red, Younger said. Despite the Monon Center's deficit, he said it's already among the most efficient in the country because it covers 74 percent of its $4 million budget through user fees.

Younger, president of Pros Consulting and a former Indianapolis parks director, is a strong advocate of fee-based park systems. The most successful rec center in the country, in Frisco, Texas, generates enough revenue to exceed its costs by 25 percent, he said.

The Frisco rec center has some design differences that make it more cost-efficient, Younger said. A key factor is the number of access points, which must be manned at all times. The Frisco center has just one, while the Monon Center has four.

In other ways, Younger said, the affluent Dallas suburb of Frisco has much in common with Carmel. The Frisco facility has built its user base over time, he said.

"They just have a really strong market, they have it priced right, and people just love it," he said.

With a new business model and a few tweaks to the fee structure, Younger thinks the Monon Center could recover 85 percent to 90 percent of its costs.

That would be quite a feat, Younger acknowledged.

"The facility was never designed to be 100 percent self-supporting," he said.

Funding shortfalls

The Monon Center counts close to 1 million visits a year, and a recent survey by locally based Walker Information shows most users are happy with its offerings.

"There's a lot right," Carmel City Councilor Luci Snyder said. "It's just that when you're losing money, everybody focuses on the wrong."

Clay Township issued the bonds to finance Central Park's construction, and the jointly appointed Carmel-Clay Park Board oversees the operations. The Monon Center's finances are a point of contention because the park board and Carmel City Council never agreed on how to fund the deficits.

Last year, the council approved using money in a city-township capital improvement fund. In the future, the park board would like to use a share of county-option income tax.

The funding issue has opened the Monon Center to criticism from city council members who say the size of its deficits were a surprise. Snyder said she won't agree to any new financing unless the park board implements a business plan to reduce the deficit.

"It is a huge building with a lot of public dollars in it," she said.

City Councilor Ron Carter has backed the Monon Center since its inception. He noted that it was expected to run a deficit of at least $300,000 for the first five years.

Dillon, the longtime park board member, said it might be unrealistic to think the Monon Center ever will break even. Delivering that message to budget hawks and taxpayers, especially while the recession strains municipal budgets across the board, will be an "educational challenge," she said.

Dillon doesn't regret the Monon Center's ambitious design. She said it suits Carmel, a city populated by executives and other type A personalities.

"You could build a rectangular building with no amenities," she said. "What does the community expect? They expect something other than a utilitarian building."•