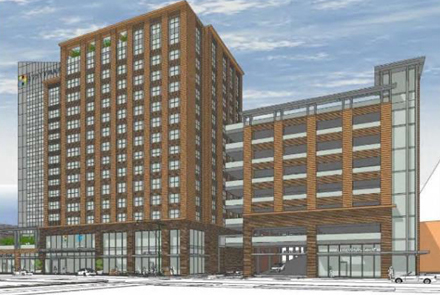 A New Orleans developer wants to build a 15-story hotel and seven-level parking garage on a downtown surface parking lot across from Bankers Life Fieldhouse.
HRI Lodging LLC is in the process of purchasing the property from owner Greg Allen, whose attempt to sell it in 2014 to another hotel developer fell through.
Allen told IBJ that HRI has had the lot under contract for several months and is "working diligently" to secure tax-increment financing assistance from the city.
The hotel would be built on a long lot fronting Pennsylvania Street north of its intersection with Georgia Street and directly east of the Harness Factory Lofts, according to a city filing. The parking garage would be situated directly north of the hotel and closer to Maryland Street. The vacant Omega Building at 29 E. Maryland St. also would be incorporated into the project.  
The Indianapolis Historic Preservation Commission is set on Wednesday to gather information on the hotel proposal without making a recommendation, in what's called a preliminary review.
Phone calls to HRI seeking comment were not immediately returned. Its proposal marks at least the third attempt in the past decade to build a hotel on the lot.
In 2014, Minnesota-based CSM Corp. pitched to IHPC a 15-story, 286-room two-flag hotel with underground parking. The company had agreed to buy the parcel from Allen to build the hotel with two brands—an Aloft and an Element—but withdrew its plans before receiving a final hearing from IHPC.
Previously, in 2007, Allen attempted to develop the site himself but was derailed by the recession. His plans called for two hotel towers—one 28 stories, the other 17.
The project, dubbed Penn Centre, would have featured as many as six restaurants and a 550-space parking garage while also incorporating the facade of the historic Omega Building.
HRI Lodging's portfolio includes 19 hotels and resorts in the United States sporting brands such as Starwood, Marriott, Hilton and Hyatt. HRI Lodging is the hotel management division of HRI Properties, a full-service real estate development firm.
Its proposal is the latest in a growing list of hotel projects that could tap into the strong downtown market. Through August, downtown hotel occupancy stood at 75.8 percent, compared with 71.2 percent at the same time last year, according to CBRE Hotels. The average daily rate per room also jumped during that time, from $153.75 to $159.49.  
A block to the north from where HRI would construct its hotel, the St. Louis-based Drury Hotels chain announced in February its plans to build a 350-room hotel by renovating the IBJ Media building and constructing a tower on the adjacent parking lot.
The sale of the property to Drury includes the adjacent surface lot to the west, where Drury would build a parking garage and tower of rooms as tall as 17 stories.
And just last month, West Elm, the housewares brand owned by Williams-Sonoma Inc., announced it plans to open a boutique hotel with at least 120 rooms and a rooftop bar in the former Coca-Cola bottling plant on the north end of Massachusetts Avenue.
Brooklyn, New York-based West Elm said the hotel is one of five it plans to open starting in late 2018 as part of a diversification beyond running its 93 retail stores. The other hotels will be in Detroit, Minneapolis, Charlotte, North Carolina; and Savannah, Georgia.
West Elm would be part of a broader development of the Coke plant site by Wisconsin-based Hendricks Commercial Properties.
Please enable JavaScript to view this content.