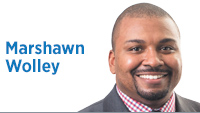 Black millennials have to consider who our friends are this election cycle. If we do, we could win.
A quick Google search for black millennials and voting turns up stories on the recalcitrance of this particular demographic when it comes to voting for either of the presidential candidates. Our deep distrust is documented in headlines proclaiming "Young blacks voice skepticism on Hillary Clinton, worry Democrats" and "Unlike their parents, black millennials aren't a lock for Clinton." I understand the frustration with the candidates because I feel it as well. A lot of my white millennial friends, and even my Republican friends, aren't thrilled about their options either.
So, what do we do?
On Group Me, Facebook, Slack and blogs, there's plenty of evidence that black millennials are continuing to work hard to move society and their particular communities forward. All over the country, black millennials are creating social enterprises and businesses, establishing networks for collective action, joining boards, mentoring, redefining activism—and trying to develop personal strategies for approaching Nov. 8. Despite our resistance to supporting either presidential candidate, we didn't take our ball and go home. We know that politics, and specifically electoral politics, isn't the only way to address an issue.
But as black millennials, there are some political realities we must face. The outcome of the election isn't just about us … it's about our friends.
I empathized with the Orlando shooting because I have friends in the LGBTQ community. I know what it is like going to work after Philando Castile was murdered. While conflating civil rights movements isn't advisable, there is the shared experience of having to fight to gain equality under the law in the 21st Century.
I've got Latino friends who I work with on community challenges. Our political agendas, while distinct in some respect, have some significant overlap. As minority communities we know that rising tides expose the holes in our boats. They are my allies, too.
I have Muslim friends who are engaged in some of the most pressing challenges facing our city. We care about the same constituencies and are in the same fights together.
Another political reality is Hillary Clinton is qualified for the office. While I don't trust her politics, she is competent to run the most powerful country on Earth. I also must concede that, as a trailblazer, she has faced sexism. It is also important that my son and his female classmates know that a woman can be president.
An underappreciated political reality is that we have some potential wins. Hillary Clinton is advocating for criminal justice reform and racial justice. There are plans for making college more affordable and taking on student loan debt. In the last presidential election, these issues weren't really prominent.
A political reality is that progress for black millennials and our friends is on the ballot.
Another friend of mine, a seasoned political veteran, is fond of saying that 50 cents and an endorsement will get you a cup of coffee. A vote isn't necessarily an endorsement, but it might just be the best way to help yourself and your friends.
Finally, someone is going to win the election. I won't ask you to vote for the lesser of two evils, because I know we reject that cynicism. It isn't how we are wired.
Let's think about our Muslim and Latino and LGBTQ and frustrated white friends and we could come out as winners, too. Forget Hillary Clinton, vote for the sake of your friends.•
__________
Wolley is a lecturer at the School of Public and Environmental Affairs at IUPUI.Send comments to ibjedit@ibj.com.
Please enable JavaScript to view this content.