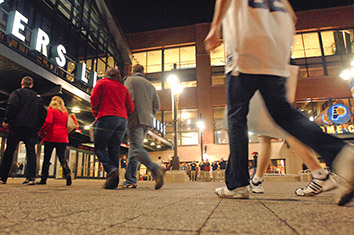 The Indiana Pacers want fans at their home games to spend more time cheering for the team and less time waiting in line for tacos and other concessions.
To that end, the National Basketball Association team is working with a startup called WaitTime, which will use cameras and artificial intelligence to send fans to the shortest lines. If it works, the Pacers could stand to make a lot more money—a report this year by Oracle Corp. estimated that more than 40 percent of American fans said they'd abandoned queues in the past year without buying anything because they got tired of waiting. The same report estimated that fan spending in the U.S. would jump 42 percent if wait times were halved.
Pacers Sports and Entertainment will pay $150,000 in upfront costs and about $9,000 a month to WaitTime, which will equip the arena with cameras that take 10 snapshots per second. Their software turns those photos into information that's broadcast to fans on monitors around the venue. It's also shared in real time with the team and Levy Restaurants, which operates the 18,500-seat Bankers Life Fieldhouse in downtown Indianapolis.
Consider the taco cart, for example, in the arena's main concourse. WaitTime will tell the Pacers, in real time, how many people are waiting, how long it takes to reach the counter, how much time it takes to receive an order, how many people have abandoned the line and how many others have passed through the area. The Pacers can use the data to redistribute concessions workers, or send mobile vendors to the areas with the longest lines.
"We already know our sales numbers per stand," Pacers' Chief Technology Officer Ed Frederici said. "Now we'll know how long someone waits in line per stand, and how much attrition there is per stand. We'll have a finer grain of detail to optimize the fan experience."
Ad Space
The Pacers will also have the option to sell ad space on WaitTime's monitors, which will make their debut tonight when the team hosts the Chicago Bulls in a preseason game. Frederici said the team expects the sponsorship to cover the roughly $108,000 in annual costs with ad sales, and maybe more.
Founded in 2013, WaitTime was developed through Bizdom, an accelerator firm started by Cleveland Cavaliers owner Dan Gilbert, the chairman of Quicken Loans Inc. In three years, the company has raised $10 million, all internally, and has done pilot programs with the Pistons, hockey's Detroit Red Wings and football's Detroit Lions.
"Some teams still put employees on the concourse with clickers and clipboards trying to count people in line, and count who leaves," said Zachary Klima, WaitTime founder and chief executive officer. "We're trying to revolutionize that process."
In addition to the monitors, fans can access WaitTime's data through the Pacers' mobile app, part of the team's push to make it a bigger resource for its fan base. The Pacers recently redid the arena's Wi-Fi, and their mobile app includes a digital concierge, powered by International Business Machine Corp.'s Watson technology.
"We want to have the best guest experience in the country," said Mel Raines, the Pacers' senior vice president of facilities operations. "This will take us to the next level."
Please enable JavaScript to view this content.