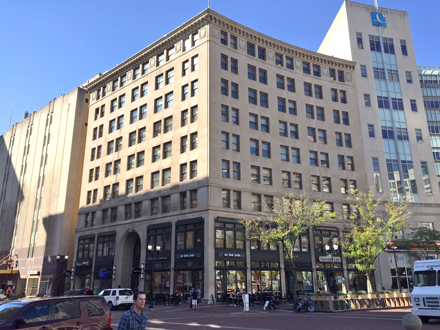 Salesforce.com Inc. appears poised to vacate one downtown office building after employees start to move into the company's new space in the Salesforce Tower next spring.
Real estate observers had speculated that Salesforce, whose 1,400 Indianapolis employees are scattered across three downtown buildings, eventually would consolidate locations. On Thursday, a Salesforce spokesperson told IBJ that the company's long-term plan was to depart the Guaranty Building at 20 N. Meridian St. and the Century Building at 36 S. Pennsylvania St. but retain its presence in the Gibson Building at 433 N. Capitol Avenue.
Over the weekend, however, a different spokesperson for Salesforce, Cheryl Sanclemente, backed off those remarks, saying in an email that "Salesforce has no plans to vacate the Century office at this time." IBJ reported in 2013 that the Century lease ran until 2021; it is not clear if terms were later modified.
Referring to the Guaranty building, she said, "We can confirm that our lease at the Guaranty office ends in Q1 of next year," though she wouldn't elaborate.
"As is the case with all of our offices," Sanclemente said, "we continue to evaluate our real estate occupancy and space requirements over the next few years."
The company in May signed a 200,000-square-foot lease in the Chase Tower. As part of the deal, the 48-story skyscraper, the state's tallest building, was rechristened the Salesforce Tower. The company expects to replace the Chase logo with its blue-clouded logo when it begins moving in employees in the first half of the year.
Salesforce became a major downtown office tenant by virtue of its $2.5 billion purchase of ExactTarget in 2013.
Salesforce's 1,400 Indianapolis workers make this city the company's second-largest office outside of its San Francisco headquarters. In a big economic development win for the city, the company in May announced it would add 800 jobs by 2021 and accommodate the growth by moving into the Chase Tower.
The Gibson Building's lease expires in 2018, according to earlier reports. On the first floor of that building, the company earlier this year added a 15,000-square-foot employee-only hangout spot called "Cafe Indy," which features a full-service cafe, a 200-person conference room, a game corner and more.
Salesforce Tower likely will have similar collaboration space, but its final location in the tower remains to be seen.
Rick Timpe of Hertz Investment Group, which recently purchased the Chase Tower, acknowledged that Salesforce could step into the first-floor space that Paradise Cafe vacated earlier this year. But he said that space also could go to a different tenant.
"Paradise left and it's a space that we have to deal with, so we're actually in the process of trying to figure that out," Timpe said.
"We would hope to have something figured out within the calendar year." 
Salesforce is the largest tech company office tenant downtown, but it is far from the only one. ExactTarget was among the first tech companies to plant a flag downtown when it moved into the 1870-built Morrison Opera Place, at Meridian and Maryland streets, in 2002. Dozens of tech firms have followed since, which has helped offset cutbacks by banks and other major office space users. 
Please enable JavaScript to view this content.