Seven months ago, it was a done deal. IUPUI in its 20-year master plan unveiled in December planned in the not-too-distant future to tear down its track-and-field stadium along New York Street to make room for a mixed-use housing and retail development.
IUPUI Chancellor Charles Bantz told IBJ July 15 that those plans have been reconsidered. Bantz said there's even been some discussion about starting an IUPUI track and field team. What that means for the stadium still isn't clear.
"That topic [of starting a track and field team] has warmed up enough that we'll think about it," Bantz said. "We haven't done any in-depth planning, but we're considering the possibility."
As for the track and field stadium, Bantz said the immediate future calls for replacing the grass infield with artificial turf that will allow soccer games, band contests, and other outdoor events and school activities. The current state budget crunch means IUPUI won't likely be able to install the infield turf for two or three years.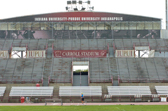 IUPUI's track and field stadium still has an uncertain long-term future.
For the immediate future, Bantz added that there are "no plans to touch" either the track or the stadium and surrounding infrastructure.
"We still have quite a bit of activity at that facility," he said.
It's now unlikely that the track and field stadium will meet the wrecking ball in the next 10 years, Bantz said. But the facility, built in 1982 along with the Natatorium as part of a movement to make Indianapolis the "Amateur Sports Capital of the World," could be torn down within 20 years to make room for other developments.
"The track would probably be there, but we're still studying the rest," he said.
Please enable JavaScript to view this content.