Another piece to revitalizing a blighted intersection just north of East 16th Street is falling into place.
Reveal Properties LLC in March 2015 bought three commercial buildings, all in poor condition, at East 17th and Bellefontaine streets on downtown's near-northeast side in the Kennedy-King neighborhood.
At 1702 Bellefontaine St. on the northwest corner of the intersection, Cannon Ball Brewing Co. is expected to open later this month following Reveal's renovation of the 100-year-old structure.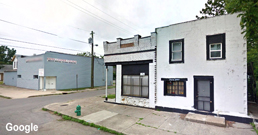 This image from 2014 shows the former dilapidated state of 1702 N. Bellefontaine St., at right, and 1660 N. Bellefontaine St. across the street. (Image via Google)
Now, directly to the south at 1660 N. Bellefontaine St., Reveal is beginning to refurbish the building that will house Rivet Creative Group, an e-commerce website developer, and most likely a restaurant to complement Cannon Ball.
That building, also a century old, last was occupied by a church congregation and once housed a neighborhood grocery. Originally, locally based Indreno Development had purchased the structure at 1660 N. Bellefontaine with Reveal and had planned to move its office there before scrapping the plans and selling its share of the property to Reveal.
Rivet Creative Group is leaving the Murphy Arts Center in Fountain Square to take 1,500 square feet in the building on Bellefontaine. That leaves about 2,500 square feet for a restaurant, said Kara Hieser, who operates Reveal Properties with her brother, Jason Comer.
Reveal has interest from two possible restaurant tenants, Hieser said.
"The area has changed quite a bit," she said. "As far as interest, we've never had to market the place. It's been much better than expected."
Indeed, East 16th Street to the south is undergoing a rejuvenation that's bringing more dining and housing options. Among them: The owners of Tinker Street restaurant (402 E. 16th St.)  are focusing their attention on opening a Mexican eatery at 1217 E. 16th St. That's about a block east from TWG  Development LLC's  conversion of the former Gleaner's Food Bank site into 145 apartments.
Back on Bellefontaine, the building that will be occupied by Cannon Ball Brewing already has King Park Development Corp. as a tenant. The organization, however, will expand from the first floor to take additional space on the second level, once Reveal finishes building a two-story addition on tghe north side of the building.
King Park will take half of the 2,500-square-foot space in the addition, leaving roughly 1,200 square feet for a retailer, Hieser said.
King Park moved from its longtime location in Fall Creek Place, at 2430 N. Delaware St., where the organization's focus had been. But now that King Park has shifted its attention to the King and Kennedy neighborhoods, it made more sense to move to Bellefontaine, said Steven Meyer, King Park's executive director.
"It's obviously an active commercial node in the middle of the neighborhood that we think has a lot of promise given all the other activity going on in the area," he said.
On the northeast corner, Reveal also owns the small pagoda-style structure that once housed a Shell service station. The developer doesn't yet have any specific plans for the property, Hieser said.
Please enable JavaScript to view this content.