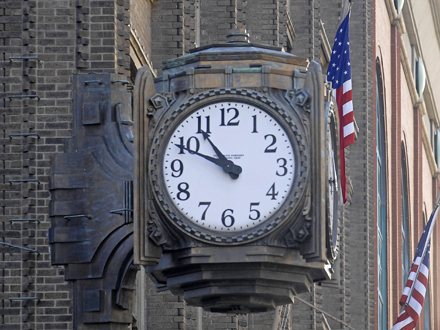 Historic preservation not-for-profit Indiana Landmarks is leading a fundraising campaign to restore the 80-year-old "Ayres clock" mounted on the corner of Circle Centre mall at Washington and Meridian streets.
The 10,000-pound bronze clock hasn't worked in years and provides the correct time only twice a day.
Indiana Landmarks officials say it will take $10,000 to repair the four-faced clock, but they want to raise $20,000 to create a maintenance fund to keep it working properly into the future.
The clock is attached to the old L.S. Ayres department store building, which was built in 1905 and designed by prominent architectural firm Vonnegut and Bohn. It now is home to a Carson's store.
Vonnegut and Bohn co-founder Arthur Bohn designed the 8-foot-tall clock in 1936, and it was mounted 29 feet above the sidewalk.
In 1947, Ayres began the annual tradition of placing a 3-foot cherub sculpture on the clock on the day before Thanksgiving. The sculpture, created by Herron School of Art instructor David Rubens, soon helped turn the clock into a holiday landmark for shoppers.
"It's unfortunate that we've neglected a prominent landmark that was so important in lives of people in the city for decades," said Paul Smith, president of Southeast Neighborhood Development and an Indiana Landmarks volunteer who is involved in the restoration effort. "For generations, people met under the clock to go shopping, or to lunch or dinner."
Indiana Landmarks contacted clock experts and decided Smith's Bell and Clock Co. of Mooresville was the right business for the job of fixing and maintaining the clock. The device needs new movements, a controller, balanced hands and a replacement for one badly faded face.
The Ayres building is owned by the city, but spending money on the clock has not been a high priority.
Indianapolis Deputy Mayor of Community Development Jeff Bennett said the city was glad to receive help that won't require tax expenditures.
"The city is grateful for the partnership with Indiana Landmarks," he said in a written statement. "We appreciate the thorough analysis of the needs and the long-term approach to maintenance. We'll expedite the permits the workmen will need in order to get repair work underway as quickly as possible."
Indiana Landmarks has set a goal of raising the money by Nov. 7 so the clock can be repaired before the cherub-mounting ceremony on Nov. 23.
"Make a contribution if you enjoyed family shopping traditions at Ayres, or if you want to honor the memory of someone who loved or worked in the store, or if you just want to see such a prominent civic landmark display the right time of day," Marsh Davis.   
More information on the clock and how to donate to the campaign can be found here.
Please enable JavaScript to view this content.