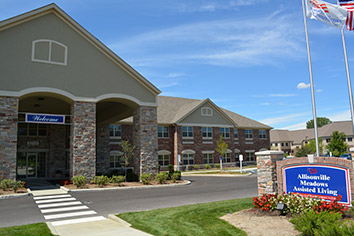 An indictment unsealed Wednesday alleges former American Senior Communities CEO James Burkhart orchestrated a massive scheme that used kickbacks and shell companies that defrauded the nursing home company, its owner and federal health care programs out of many millions of dollars.

James Burkhart
The 35-page indictment handed down by a federal grand jury last week alleges that Burkhart, former Chief Operating Officer Dan Benson, Burkhart's brother Joshua and Burkhart's friend Steven Ganote launched the brazen scheme to enrich themselves in 2009 and continued it until Sept. 15, 2015, the day FBI agents raided the nursing home company's offices.
The fraud and kickbacks combined totaled more than $16 million, with the proceeds going to fund the men's lavish lifestyles, which included vacation homes, expensive jewelry, even gold bullion and casino chips, U.S. Attorney Josh Minkler said at a press conference Wednesday afternoon.
"The scheme was characterized by unbridled greed," Minkler said.
The victims of the fraud were ASC, which is owned by the Jackson family of Indianapolis; the Health & Hospital Corp. of Marion County, which hired ASC to operate its nearly 70 nursing homes; and federal health care programs, the indictment alleges.
"The Defendants used multiple shell companies to falsify and inflate costs to ASC and Health & Hospital for goods and services vendors provided, to steal discounts and rebates that belonged to ASC and Health & Hospital, and to conceal kickbacks and other payments from vendors and others to themselves," according to the indictment.
The Burkharts and Ganote were arrested Wednesday morning, and Benson turned himself in later in the day. All appeared at a late afternoon initial court hearing, standing in a row wearing handcuffs, where Magistrate Judge Tim Baker summarized the 32 counts, which range from mail fraud and money laundering to conspiracy to violate the kickback statute. Baker entered automatic not-guilty pleas on the defendants' behalf and placed them on supervised release while they await trial.
According to the indictment, the scope of the scheme was breathtaking and included purchases for everything from landscaping and home health services to medical supplies and American flags.
Matt Gutwein—CEO of Health & Hospital, which is the parent of Eskenazi Health—could not be reached for comment. Larry Mackey, a Barnes & Thornburg attorney representing James Burkhart, did not respond to a request for comment.
American Senior Communities, the state's largest nursing home company, fired Burkhart and Benson days after last fall's FBI raid.
Neither Burkhart nor Ganote worked at American Senior, but all four set up shell companies that advanced the fraud and personally profited, the indictment alleges. 
The indictment describes Ganote as James Burkhart's "personal friend." Joshua Burkhart, 42, who also goes by Justin Barnes, worked for Bradley Associates, an Indianapolis accounting firm that prepared ASC's and Health & Hospital's cost reports for federal health care programs.
The indictment provides extensive detail on how the fraud allegedly was carried out. For example, it says that at James Burkhart's direction, Fishers-based Mainscape Inc. between 2009 and 2014 inflated landscaping invoices by 5 percent and sent them to ASC for payment. ASC then used Health & Hospital funds to pay the inflated amounts. In turn, Mainscape paid the 5 percent overcharges to Joshua Burkhart's shell company Circle Consulting LLC. Investigators allege Joshua Burkhart received about $400,000 in concealed Mainscape overcharges.
Tom Farlow, a Frost Brown Todd attorney representing Joshua Burkhart, could not be reached. Mainscape owner Dave Mazanowski did not respond to a message left at Mainscape's offices.
According to the indictment, James Burkhart and Mainscape upped the ante in January 2015, increasing the overcharges by an additional 45 percent. From that point until the scheme ended last fall, James Burkhart and Mainscape kept the overcharges for themselves, splitting them 50-50, with each receiving about $195,000, the indictment alleges.
Furthermore, according to the indictment, from 2009 to 2015 Mainscape, at James Burkhart's direction, submitted false invoices to ASC for "consulting" services that had not been performed. The payments were actually reimbursements to Mainscape's Mazanowski to reimburse Mazanowski for James Burkhart's use of his plane, to reimburse him for a golf trip Burkhart had asked him to pay for, and to reimburse him for political contributions Burkhart had directed him to make.
In total, according to the indictment, about $1.5 million in Health & Hospital funds were used to pay Mainscape for fictitious consulting services.
In a separate scheme, James Burkhart, Benson and Ganote, 42, used a Ganote-created shell company called Indiana Uniform Co. to orchestrate $1.5 million in overcharges for uniforms, luggage carts, T-shirts and other products, according to the indictment. The prices Indiana Uniform charged ASC were as much as 200 percent higher than Indiana Uniform had paid, the indictment alleges.
At least two prospective ASC vendors refused to participate in fraud and lost out on the opportunity to do business with ASC as a result, the indictment says. In early 2015, Ganote proposed to the CEO of an unnamed furniture company that the vendor inflate invoices by 25 percent to 30 percent and pay those overcharges to one of Ganote's shell companies.The CEO "expressed concern" and declined to do so.
Similarly, a company James Burkhart and Ganote approached in 2013 to install upgraded nurse call monitoriing systems at all ASC-managed facilities balked at overcharging by 30 percent and kicking the overcharges back to Burkhart and Ganote, the indictment alleges. However, a second vendor that is not named in the indictment agreed to an even larger overcharge, 35 percent., which yielded a kickback to Burkhart, Benson and Ganote totaling $3.7 million, according to the indictment.
Burkhart, 51, had been CEO of American Senior since 2002, helping to build it from a money-losing, midsized nursing home company into the state's dominant nursing home operator. It operates nearly 100 nursing homes and assisted-living facilities that generate more than $600 million a year in revenue. 
The indictment indicates James Burkhart and Benson, 51, were handsomely compensated even without fraudulently supplementing their incomes. ASC paid Burkhart more than $1.5 million in 2014 and Benson more than $2.8 million.
Federal prosecutors say they began investigating 16 months ago after receiving a tip from someone who had been offered a chance to participate in a billing scheme but declined.
American Senior Communities—whose ubiquitous TV ads salute the accomplishments of seniors—employs nearly 10,000 people. 
The company issued a statement Wednesday praising investigators' work.
"American Senior Communities is grateful to the United States Attorney's Office and the federal agencies whose hard work and dedication resulted in today's indictment," the statement said. "ASC has actively cooperated in this investigation and will continue to cooperate until the prosecutions are concluded. ASC was the victim of a betrayal of trust by two of its former officers."
Please enable JavaScript to view this content.