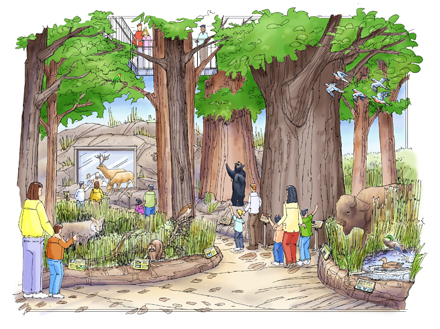 Indiana State Museum and Historic Sites is about to unveil the first part of multi-year $17.8 million project that it describes as "a bold plan" to improve its  museum in White River State Park and the 11 historic sites it manages around the state.
"Because of all the changes in technology, we are changing the way we tell Indiana's stories," Indiana State Museum and Historic Sites President and CEO Tom King said in a written statement issued Thursday. 
Beth Van Why, the museum's associate vice president of exhibitions, described the effort as a "multimillion dollar" project that will be funded with a combination of state funding, grants and private donations. Almost all of the funds have been raised.
"All 12 locations in the system will have improvements," Van Why said.
The first portion of the renovation opens to the public Nov. 3, when the Indianapolis museum unveils its first three renovated galleries. These galleries focus on Indiana's science, culture and history.
"The updated Natural Regions, Contested Territory and 19th State galleries will excite guests as they get to crawl into a black bear's cave, hear the sounds of pre-contact Indiana, pack their own covered wagon, hear Little Turtle's stirring speech at the signing of the Treaty of Greenville and much more," the museum said.
In all, the renovation project will have five separate phases that should be completed by 2019. Some galleries will close as work progresses.
"We are boldly transforming our galleries to change how visitors experience Indiana's history. We're creating more immersive, interactive exhibitions, as well as creating spaces that can be changed on a regular basis so that visitors will have something new to enjoy each time they visit,'" King said.
About $17.2 million has been raised to pay for the project, with $9 million of that coming from private donations, including $6.3 million from private foundations. The biggest gift was $4 million from Lilly Endowment.
The museum also will tap $7.8 million in state funding and in $1.4 million in federal funding.
At the state museum, $4 million will be spent on science galleries and $2 million on cultural history galleries. More than $4 million will go toward infrastructure and technology, accessibility upgrades, collection stewardship and research, and staff and marketing expenses.
The historic Levi Coffin House in Fountain City, once known as the Grand Central Station of the Underground Railroad, will open a $3.8 million, 5,200-square-foot interpretive center Dec. 10.
Almost $4 million will go toward the other 10 sitrs in the system.
More project details
— Phase 2 of the project begins in spring 2017. It will include construction in the Ice Age and Prehistoric Native Americans galleries as well as the Naturalist Lab at the state museum.
— Phase 3 includes the museum's Level 1 galleries that cover Indiana's cultural history from 1840-1930. It also includes the Ancient Seas area on Level 1. All of these areas will close for construction in spring 2018 and are scheduled to reopen that fall.
— Phase 4 includes the Level 1 gallery called What Shapes Us, formerly called Birth of the Earth. This area will close in fall 2018 and reopen in spring 2019.
— Phase 5 includes the museum's Level 2 cultural history galleries, which cover 1930 forward. This area will close in spring 2019 with a planned reopening that fall. 
At the Indiana State Museum Historic Sites:
— The Corydon Capitol State Historic Site has been protected from water intrusion.
— The Selma Steele gardens at T.C. Steele State Historic Site in Nashville have been restored.
The Indiana State Museum opened in 1967 in the former Indianapolis City Hall building on North Alabama Street. It moved to its current location at White River State Park in 2002.
Please enable JavaScript to view this content.