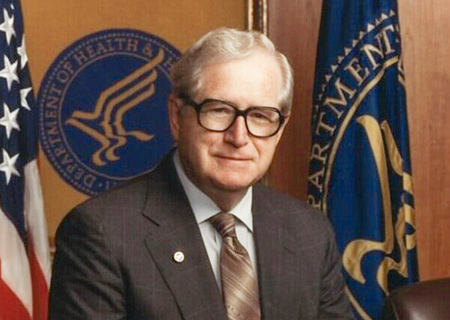 Otis Bowen, who became the first physician to lead the federal government's largest department, Health and Human Services, lived a long and rich life that included service as the Speaker of the Indiana House of Representatives and two terms as one of the state's most popular governors.
Bowen was born in 1918 near Rochester, where his father taught school and owned a hardware store. He attended college and medical school at Indiana University, graduating with his M.D. in 1942. He then served in the US Army Medical Corps before returning to practice family medicine in Bremen.
Bowen once estimated that he delivered 3,000 babies over the course of his career, and he often cared for families who could not pay cash. In lieu of payment, one presented him with a chicken, which he promptly ran over the next morning backing his car out of the garage.
Bowen also became involved in politics, serving as a member of the House of Representatives for 14 years, including 5 years as Speaker between 1967 and 1972. He ran unsuccessfully for governor in 1968 but was elected in 1972 and reelected in 1976.
Bowen thus became the first governor in Indiana history to serve eight consecutive years. At the end of his second term, he also chaired the National Governor's Association, before becoming a professor in the medical school at Indiana University in 1981.
In 1985, he was appointed by President Reagan as Secretary of Health and Human Services, a post he held until 1989. During this time, Bowen led an expansion of Medicare and helped to beef up the federal government's anti-AIDS programs.
One of Bowen's comments during a 1987 press conference became a mantra in the safe-sex movement: "Remember, when a person has sex, they're not just having it with that partner, they're having it with everybody that partner had it with for the past 10 years."
Bowen and his first wife Beth were married in 1939 and had four children. She died of cancer days before the end of his second term as governor. He then married Rose, who died in 1991, also of cancer. His third wife, Carol, survived him when he died in 2013 at 95.
Over the course of his long life, Bowen received numerous awards, including 25 honorary degrees. Today his papers are collected at Ball State University, and there is an Otis Bowen Museum on the campus of Bethel College.
Bowen was known throughout most of his life simply as "Doc." Even during his service in Washington he made liberal use of his prescription pad to help treat the ailments of staffers, members of the press corps, and friends and family.
In his 2000 memoir, "Doc: Memories from a Life in Public Service," Bowen fondly recalled working to earn money for medical school. "I mowed about five lawns a week at 25 cents each, shined shoes in the barber shop for a nickel a pair, and opened up a gas station at 6:30 am, earning a penny a gallon."
Bowen's approach to politics had much in common with the way he practiced medicine. Being a rural physician accustomed him to hard work and irregular hours. More importantly, he wrote, "a governor must be a decisive problem solver, have good character, and be willing to lead."
To Bowen, character counted most: "A public official's most important traits are honesty and integrity. A governor cannot lead by trying to please everyone, straddling the fence, or trying to come down on both sides of it. He must make decisions based on common sense tempered by compassion."•
__________
Hoosier Beacons pays tribute to Indiana's bicentennial by telling the stories of famous Hoosiers. It appears every other week. Gunderman is chancellor's professor at Indiana University.
Please enable JavaScript to view this content.