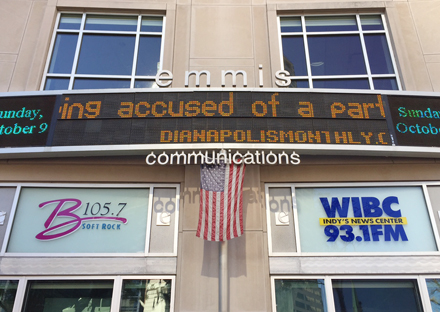 Emmis Communications Corp. CEO Jeff Smulyan has failed in his latest attempt to take the company private.
Smulyan rolled out his $4.10-per-share offer on Aug. 18. In the weeks since, he extended the deadline for the deal three times—a strong sign he and the independent board committee evaluating the proposal were at odds on price.
After the markets closed on Friday, his latest deadline to come to terms with the board, Smulyan announced he was dropping the buyout plan and would keep Emmis publicly traded.
"I am sorry we could not reach an agreement on the valuation. I look forward to continuing to work with you as we move Emmis forward as a public company," Smulyan wrote to the special committee of independent directors that evaluated the offer. The committee consisted of attorney Susan Bayh and former CBS Television CEO Peter Lund. 
The offer valued Emmis at about $50 million. Smulyan, who owns 13 percent of the shares, had rounded up other directors and top brass to join in the buyout, which was being financed by Falcon Investment Advisors, a Boston-based private equity firm.
Some shareholders had argued they thought the $4.10-per-share offer—which represented a 25 percent premium to Emmis' average closing price over the 90 days before the deal was announced—was way too low.
"I'm disappointed and I'm hurt by this offer, and I'm going to fight this with everything I have," Tim Stabosz, a LaPorte City Council member who owns 150,000 shares, told IBJ in August. "I'm quite certain that I'm not the only stockholder that's going to stand against this. I think there's going to be a lot of pushback."
This marks the third time in the last 10 years that Smulyan has proposed taking the company private but failed to do so. A 2010 attempt was blocked at the 11th hour by a group dissident investors. Smulyan called off the 2006 deal after he couldn't reach terms with the board.
Emmis this week announced deals to sell its Terre Haute radio stations and Texas Monthly magazine, transactions that will raise more than $30 million, which the company will use to reduce debt. Smulyan has said Emmis needs to reduce leverage whether or not it remained a public company.
Emmis stock price closed Friday at $3.99, up 4 cents on the day.
Please enable JavaScript to view this content.