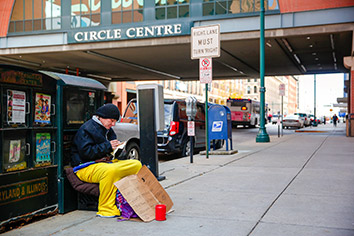 Downtown Indy Inc. is driving a new effort to address a long-standing issue: panhandling in downtown Indianapolis.
The not-for-profit advocacy organization says it's working with business, social service and law enforcement groups to tackle the problem in a broad-based way that includes social-service outreach and education. 
It's a departure from a previous city effort that focused on enforcement, and the first pieces of the new initiative are launching this month.
"A lot of manpower is being brought together to say, 'Hey, how can we impact this?'" said Bob Schultz, senior vice president of marketing and events at Downtown Indy.
One of the first steps in the plan is to conduct a census to get data on the extent of the problem. Downtown Indy is tackling the issue now because of anecdotal reports that aggressive panhandling is on the rise. But without an official study, no one really knows if that's accurate.
"It's all just perception right now. We want to know, truly, what the count is," Schultz said.
The last official review of homelessness and panhandling was done in 2008, he said.
Downtown Indy Inc. is contracting with Horizon House's Street Outreach Rapid Response Team, or SORRT, to conduct a new census on Oct. 24-25.
"We're just going to get on our bicycles and we're going to go all through downtown," said Melissa Burgess, SORRT's program coordinator.
SORRT members will note whether the people they see are panhandling in a passive or aggressive fashion or whether they're busking—i.e., performing for money. They'll also note the time of day and collect demographic information on the person's age, gender, ethnicity and whether or not the person is homeless.
Burgess emphasizes that homelessness and panhandling are not the same thing. "Not all the people who panhandle are homeless," she said.
Homelessness is on the rise, Burgess said, but until the census takes place it's difficult to say what percentage of panhandlers are homeless.
Downtown Indy's efforts also include an educational component starting this month.
The organization has printed up rack cards that it's distributing to hotels, restaurants and building managers downtown. The cards summarize what panhandling is, what behaviors are illegal and what people can do if they're approached for money.
The first wave of cards went out this week in preparation for the national FFA Convention and Expo, which will bring 60,000 visitors downtown Wednesday through Saturday.
The cards are geared to hospitality employees who can convey the information to their guests, Schultz said.
"As people come and go, we want everyone to have the same knowledge so that we're all on the same page," Schultz said.
Organizers hope that their current effort has more success than an enforcement-based effort tried by the city several years ago.
In 2013, former Indianapolis Mayor Greg Ballard led an effort to combat panhandling by trying to strengthen city ordinances. Panhandling cost the city about $6.3 million in visitor spending annually, according to the mayor's office at the time, because it turned off tourists and convention-goers.
The American Civil Liberties Union sued the city in August of that year on behalf of four plaintiffs who said their First Amendment rights to free speech were violated when city police told them to stop panhandling on downtown streets. The city reached an agreement that settled that lawsuit in 2014.
That legal challenge, Schultz said, revealed that just taking an enforcement approach to panhandling isn't enough.
"What we've discovered is that it's a much broader situation that needs multiple activities coming from various sources," he said.
The Indianapolis Metropolitan Police Department, which is also involved with Downtown Indy's efforts, would like more enforcement power but also realizes there are larger forces at play that need to be addressed, said Major Richard Riddle, a public information officer for the department.
Panhandling is narrowly defined, Riddle said, and officers are restricted in how they can respond. As the law is currently written, Riddle said, a person who is sitting silently with a sign is not considered a panhandler. Neither is a street performer with a tip jar. If the person does not vocally ask for money, Riddle said, it's not legally considered panhandling.
But the department also has started to take a broader approach. This spring, it launched a community engagement unit whose officers are trained to direct people to services they may need.
If an officer encounters a person who is homeless, jobless or in need of mental health care, for instance, the officer can help connect that person with appropriate social services.
"We are looking at multiple options to address this," Riddle said. "We're trying to take that social-service approach, then follow up with enforcement if that does not solve the issues."
"The worst of the worst panhandlers are subject to arrest, and that's an option," he said. "But we know we can't make arrest after arrest. We have to figure out why the individual is coming downtown to panhandle."
The efforts currently under way are considered Phase I of Downtown Indy's plan. The second phase likely would address finding long-term funding for broad-based efforts and addressing the immediate needs of panhandlers; forming a downtown panhandling task force; and proposing stronger language for city laws regarding panhandling, Schultz said.
Please enable JavaScript to view this content.