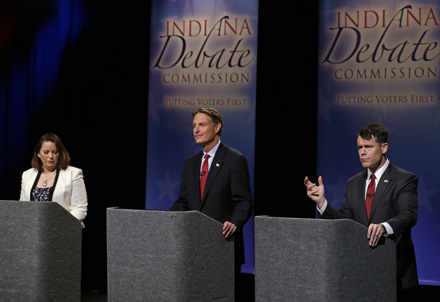 Indiana's candidates for U.S. Senate traded barbs and lodged accusations at one another during a charged debate Tuesday night, with Republican U.S. Rep. Todd Young and Democrat Evan Bayh both accusing one another of being Washington insiders and putting special interests over Hoosiers.
The debate, broadcast live from WFYI's studios in Indianapolis and hosted by the Indiana Debate Commission, also featured Libertarian Lucy Brenton, who was largely ignored by Young and Bayh as they repeated attacks that have already been running on the airwaves in what has turned out to be a rancorous campaign to replace retiring Republican U.S. Sen. Dan Coats.
"These are the words of a D.C. politician, a career politician," Young said of Bayh at one point. "He's had the opportunity to help make Social Security sustainable for my generation. He hasn't done anything."
Bayh, a former U.S. senator responded: "Last time I checked, Congressman Young is still in Congress. If you don't like Congress, maybe you shouldn't vote for Congressman Young."
In polls, Bayh still appears to be leading in what is one of the most competitive U.S. Senate races in the country. He had a six-point lead over Young in a Monmouth University poll conducted Oct. 11-13 and a one-point lead in an Oct. 6 WTHR/Howey Politics Indiana poll. Brenton had 6 percent of the vote in the Monmouth poll.
Brenton said people likely haven't heard of her because "I haven't spent $30 million" on advertisements, but that "these are not the senators you're looking for." Brenton was lively, made a couple Star Wars references, and stepped away from the podium at one point to get away from Bayh and Young, who she said were slinging mud.
Young and Bayh repeatedly traded barbs on health care, with Young criticizing Bayh for "casting the deciding vote for Obamacare."
"Obamacare has been an absolute job killer," Young said, mentioning rising costs of premiums and deductibles. "Perhaps you need to spend a little more time in Indiana to see the real impact of Obamacare."
But Bayh said "there's a real human cost" to repealing and replacing Obamacare, as Young has proposed.
"We need to fix the parts of the law that need to be fixed and keep those that are working well," Bayh said, who mentioned that he supports Gov. Mike Pence's expansion of Medicaid in Indiana that was made possible by the Affordable Care Act.
After the debate, Bayh said it is unfortunate the campaign has been "unrelentingly negative" and blamed that tone on Young being "negative from the very beginning."
"You're just not going to be productive in the U.S. Senate behaving that way," Bayh said. "It's just negative, negative, negative."
Bayh—whose campaign has been dogged by attacks about whether he really lives in Indiana, about working for a private equity firm after leaving the Senate and spending time during his last year of office searching for jobs while voting on issues of interest to future employers—said Young's attacks on his loyalty to Hoosiers are "unfounded."
"I've always voted in the best interest of Hoosiers and Hoosier families, without exception," Bayh said. "This election is not about him or me. I think people are fed up with all these attacks and all this negativity."
But Young, who called Bayh a "creature of Washington, D.C.," said he was right to bring up those issues because "there are trust issues with Evan Bayh."
At one point during the debate, Young turned to Bayh and criticized him for leaving the Senate to work for a lobbying firm: "What'd you do Evan? … You took the money and ran."
Bayh told reporters after the debate that Young "seemed like he was kind of losing it there at the end, (pointing) his finger at me and the whole thing."
Both candidates stressed that they would be independent voices in Washington if elected.
Bayh pointed out differences between himself and Democratic presidential nominee Hillary Clinton and said he intends to "call it the way I see it" in Washington.
If elected, Young said he intends to be an "independent Hoosier conservative voice."
Please enable JavaScript to view this content.