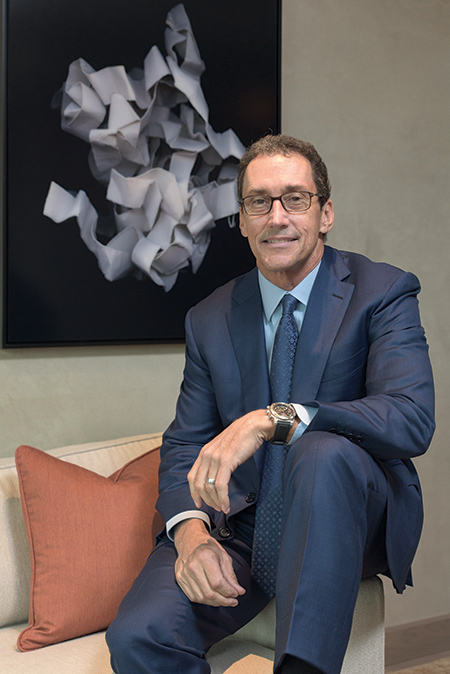 Thomas Pence, one of the area's most renowned stock pickers, has joined Stifel Nicolaus & Co. after roughly 16 years as managing partner and portfolio manager with Wells Capital Management.
Pence spent more than two decades (some at Conseco Capital Management) creating and selling mutual funds to institutional investors—including pension funds and university endowments—managing as much as $18 billion in assets at one point.
But earlier this year, the 55-year-old decided he wanted to focus his skills on individual investors, helping entrepreneurs and wealthy people manage their assets. So he helped execute a succession plan at Wells, parted ways in September, and joined Stifel's Knall/Cohen Group in Indianapolis on Oct. 3.
The following are edited excerpts from a conversation IBJ had with Pence about his job change and his ambitions.
IBJ: You had a nice run at Wells with the team you built there. When did you decide to leave and why?
Pence: I made the decision in early 2016. My reason to leave had nothing to do with Wells or my team. Wells put me on the map as an internationally known growth [equity] manager by giving me the resources and support I needed. So in leaving Wells, I'm really leaving one of the very best teams in the institutional [investing] business in the hands of Mike Smith, who is not only my friend, but one of the best portfolio managers out there.
I just found myself at a point in my career where I was in search of a new frontier. After 25 years running mutual funds and serving the needs of institutional clients all over the world, I just wanted a new kind of challenge.
What kind of challenge?
The institutional-investing world offers an incredible vantage point for learning about the world economies and about global investment flows. And being in a senior position of running an internationally known investment team brings you extraordinary access to some of the brightest minds in the world and some of the top business leaders as well.
But this knowledge and access comes at a high cost because you have to travel great distances each year in order to get in front of these people and build relationships with them. That was a large part of my commitment over the past 20 years.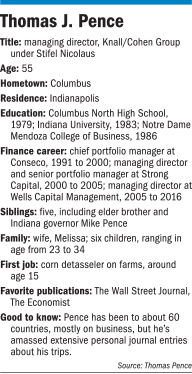 So the first attraction for me was the wealth-management business and serving the needs of individuals rather than institutions. Because that business is very different and very unique from the institutional business. You actually get to meet and speak with the people you manage money for—as opposed to the institutional world where the client is either an anonymous account entry on a mutual fund ledger or represented by some kind of an intermediary.
So what led you to Knall/Cohen Group and your decision to join that team?
Stifel has a very large wealth practice here in Indianapolis called the Knall/Cohen Group, and I've known Dave Knall and Jeff Cohen for over 20 years now. They've introduced me to many of their clients, both on the high-net-worth and the institutional side. So it was a natural step to have some discussions with them about what I wanted to do.
The biggest deciding factor for me was the reputation that these guys have with their clients. They have clients not only in Indiana, but all of the U.S., and they advise them in many different aspects of their individual and business financial plans—from investment advising, tax advising, estate planning strategies and the connections between businesses and personal finance. Many of their clientele are entrepreneurs and business owners.
How did that decision process go?
They were one of the initial groups that I spoke with very early in my thought process. But I really didn't want to have any concrete conversations with anybody until after I had talked to Wells because it was very important for me to do things in a way that Wells was supportive of because, remember, they supported me for 15 years. So once they agreed upon a transition plan and they were OK with what I was going to do, then I began talking in more concrete terms to potential platforms.
So that decision, that these guys were the right guys, came sometime during the summer when it just felt right. And that's the only way I can describe it: It just felt right.
How many options did you consider before settling on Stifel?
Three different options were available to me, and one was going out on my own.
I should say, actually, four, because I thought about staying at Wells, and developing something that works specifically with high-net-worth clientele. But Wells Capital Management is primarily an institutional [investing] firm, so that would almost be like starting from scratch.
Tell me about the "Fundamental Growth Equity Team" you started at Conseco Inc. in 1991 and moved to Wells.
I really think it's one of the very best teams in the institutional-investing business. We were known internationally, and Mike Smith, who's taking that team over for me, is very highly regarded, not only by most consultants in the institutional world, but by many of the largest pension funds, endowments, universities and so forth.
We began in 1991 just with mid-cap [stocks]. In 1998, we added large-cap and "smid cap," or small-mid. And then when we got to Wells, we added over the years a "large cap select," and "all cap" and then more recently a "global growth fund."
Whenever there was a search for a large cap, mid-cap or "smid-cap" manager, we were usually always in the Top 10 group of managers being considered. And we grew that business from about $1 billion [in assets under management] when we arrived at Wells in 2000 to as high as $18 billion at one point before thefinancial crisis. We began 2016 with about $16 billion and that still made us one of the larger institutional-investment manager teams in the country.
What about head count?
I think we came over from Conseco with 12 of us and we doubled over the decade of the 2000s. And it's just been fluctuating around—20 to 25 people since then.
How'd you meet Mike Smith?
I hired Mike as an intern from DePauw University, I believe in 1997. And he then became my trader. He then became my health care analyst. And then, in about 2006, I finally promoted him to the level of portfolio manager on one of our portfolios. A couple of years ago, I named him my partner and he became co-manager with me on all of the portfolios.
He's a stud. No, he really is. He's a stud and one of the hardest-working guys and has tremendously high character and I felt like he was the best person to put in a position to be my heir-apparent.
Will you miss anything about Wells?
I think more than anything I'll miss the access. I was in a position that I could talk to anybody I wanted to talk to because, through some connection, they would take my call. Which is one of the benefits of running $15 billion in assets—generally somebody's going to help you. That just means I'll have to be a lot nicer guy.
But I'll miss that. The other thing I'll really miss is the camaraderie. Most of the people on the team I hired from a very young age. I coached them. I mentored them. There will be the opportunity for that here in the years ahead. It's like leaving your family, but I should say it's more like letting your family grow up without your oversight. And I felt like these guys were ready to take this challenge on and they might not get that opportunity unless I left it to them.
I'm guessing you won't miss the rigorous travel routine?
You are tracking correctly; I will not miss that. The investing part of the job is something that I've always loved. The coaching and mentoring part of the job and teaching is something I'll always love. The traveling—I think it was probably 100 days a year to support the business—is something that I will not miss as much.
What are your ambitions at Stifel?
I haven't thought that far ahead. I think I'd like to learn this business. I'd like to become as highly regarded in this business as I became in 25 years on the institutional side. And when I say this business, I mean the high-net-worth and wealth management business.
I'm not interested in building anything bigger than we need to serve our clients. Those days, I think, are behind me. That took a lot of energy and a lot of focus that I learned a lot from, but it also requires a lot of time to maintain that.
So, I think what I really hope to achieve is balance, focus, harmony and simplicity. That's really what I set out for. Because, when I was younger, I wanted more and more and more on my plate. And at 55, I just want enough on my plate that I can be really good at. Excellence and performance are much more important to me now than size and scale.•
Please enable JavaScript to view this content.