For four decades, Jim Ashby worked as a manufacturing floor manager, first for General Motors Corp., then, after a buyout, for an Ingersoll Rand subsidiary. He likes to relax and fish, but Ashby considers himself too energetic for retirement.

He's now 67 years old. And a first-time entrepreneur.

Three years ago, Ashby bought a black Lincoln Town Car and launched Ashby Private Chauffeur LLC. Now he spends his days transporting executives to and from meetings, driving wedding guests to receptions, and ushering the occasional celebrity around Indianapolis.

"If they need to be at the airport at four in the morning, they can rely on old Jim," Ashby said. "The wife's not going to get up. The dog's not going to get up. But Jim will be there."

These days, many seniors are following in the footsteps of Harlan "Colonel" Sanders, who famously used a Social Security check to found Kentucky Fried Chicken at age 65. Some of them have suffered massive losses to their retirement portfolios in the economic downturn and need to earn back their nest eggs. Others encounter ageism, and form their own companies when they can't find jobs commensurate with their experience.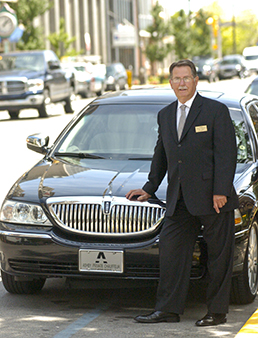 Jim Ashby started his chauffeur business three years ago. (IBJ Photo/Robin Jerstad)
And then there are those like Ashby, who simply reject the concept of retirement. His whole life, Ashby said, he always wanted to work for a luxury hotel. One day he was "putzing" around Circle Centre mall downtown. He saw the Conrad Indianapolis, and decided to walk in, just to look around.

The concierge soon inquired if he could help Ashby, who responded by asking for a job application. Before he knew it, he had landed a post as a valet. Ashby said the Conrad's managers told him he was one of the best "lobby ambassadors" they'd ever seen because he was so friendly. Within months, they made him the hotel's chauffeur.

Soon, Ashby started handing out his card, offering his services when he was off the Conrad's clock.

"I thought, 'Hey, I can make a business out of this,'" Ashby said. "I liked the people, and they liked me."

Ashby no longer drives for the Conrad. He now charges $60 an hour, with a three-hour minimum for events. Trips to the airport are priced by distance. He attributes the bulk of his success to a keen eye for detail.

For starters, Ashby keeps his car meticulously clean, and always has cold water and copies of publications like The Wall Street Journal aboard. He automatically opens doors and, when his passengers depart, Ashby double-checks to see whether they've forgotten a purse or cell phone. And Ashby gives himself a roomy time cushion, always setting off for pickups long before necessary. He prides himself on the fact that he's never been late.

Not too old to hustle

Seniors like Ashby are disproving the notion that older people don't have the energy or hustle to become entrepreneurs. In June, the Kansas City, Mo.-based Ewing Marion Kauffman Foundation set out to debunk the stereotype. The highest rate of entrepreneurial activity for the last decade has been among the 55-to-64 age group, said a Kauffman report, "The Coming Entrepreneurship Boom." The lowest level of entrepreneurial activity was among 20- to 34-year-olds, defying the conventional image of the risk-prone Internet entrepreneur.

"The United States will, at some point, recover from the current deep recession. But the overriding question upon recovery will concern resumption of growth rate," the report said. "Several facts have emerged in the course of Kauffman Foundation research that indicate the United States might be on the cusp of an entrepreneurship boom—not in spite of the aging population, but because of it."

The Kauffman report noted that the baby boomers, now age 45 to 64, are entering their golden years. It also pointed out that life expectancy has risen, and people are staying healthier longer. Meanwhile, long-term employment with a pension attached is becoming a thing of the past.

Longtime advertising executive Hal Goldman embodies the trend. A senior, he asked that his age not be printed. His career included stints in top marketing jobs at major companies, like New Jersey-based Schering-Plough Corp. He finished in Indianapolis at Thomson Consumer Electronics. A decade ago, Thomson offered him a generous buyout. Goldman took it and decided to become an entrepreneur.

"You know the old story," he joked. "It's hard to make a lot of money working for a major company unless you're the president, and I had no chance of being president of Thomson."

He bought a dream home on a lake in Tennessee, founded a consultancy called Hal Goldman Associates, and kept busy on marketing projects for companies as diverse as New York-based Citicorp and Cleveland-based Sherwin Williams. It should have been a dream come true.

But Goldman found he didn't like the feast-or-famine work flow of the free-lancer. His clients generally brought him rescue jobs—complicated projects they couldn't handle internally, usually with ridiculously short deadlines. Worse, he never got to see the results of his efforts. Goldman complains that he'd go to great lengths in research, then make detailed recommendations. But once he turned in a report, he seldom learned whether it was ever used, or just filed in the back of a drawer.

The lake house had its flaws, too. The nearest grocery store was an hour away, and forget about restaurants. Rather than commute by boat, Goldman sold it and moved back to Carmel. Then the stock market downturn took a big chunk out of his savings. Goldman said he's still got enough to get by, but he likes to travel and help his kids financially. So he's now looking for a full-time job with a large company.

Goldman said he's sharper now than he was 25 years ago, but it's tough to convince hiring managers.

"People talk about second careers," he said. "I'm thinking about my third right now."

It's difficult to tell exactly how many seniors are entrepreneurs, since federal databases account only for self-employed people who formally incorporate their businesses. The number of U.S. citizens over 55 known to be self-employed has grown from 2.5 million in 2000 to 3.3 million in June, said Sara Rix, strategic policy adviser for the Washington, D.C.-based AARP.

But the elderly subset of the total population is growing even faster. If there's a widespread proportionate upswing in senior entrepreneurship, Rix hasn't seen it yet.

"I think workers today are hanging onto jobs if they have them. They may be dreaming about moving into self-employment when they retire, or using it as a backup when they leave or should they lose their jobs," she said. "But small businesses fail at a really high rate. You've got to have something truly marketable to make a success of it, by which I mean earn enough to live on."

Still, some seniors are undaunted by the economic downturn. Bill Alerding, 74, and his wife spent the majority of their careers doing development work in Spain, Mexico and Guatemala. They finally returned to the United States because of concerns over his elderly mother's health.

Alerding's not as focused on the recession as he is on an even larger trend—the influx of Spanish speakers into the U.S. work force. Companies are missing out on both sales and hiring opportunities if they ignore the fast-growing Hispanic population, he said. So in December, Alerding incorporated Profluent, an Indianapolis-based consultancy that aims to teach managers a working knowledge of Spanish in just a few weeks.

"I always thought retirement was the dirtiest word in the English language. What are you retiring from? That's the most boring existence alive," Alerding said. "If you keep using your brain, the older you get, the smarter you get."•