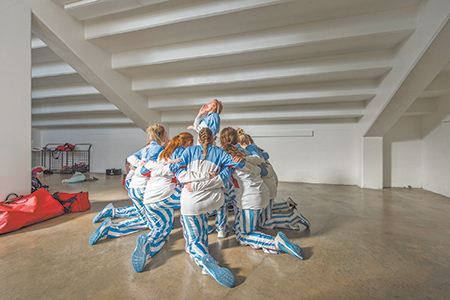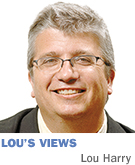 The numbers hint at obsession: In pursuit of the essence of Hoosier basketball, photographers Michael E. Keating and Chris Smith logged over 10,000 miles and visited 130 gyms across the state, taking more than 150,000 photos along the way.
The result: "The Hoosier Hardwood Photo Project," a celebration of the iconic pastime capturing images not just of the players and fans, but also of the places they play. A small percentage of their shots is on display at the Indiana Historical Society through Nov. 12.
(Photo courtesy of Michael E. Keating)
While what's on view only hints at the scope of the project, the IHS has crafted a sampler that's bound to inspire nostalgia even for those of us non-natives with limited court skills. Even if your high school basketball experience is largely confined to shouting yourself hoarse at a game (guilty, says I), your memory banks will likely light up here courtesy of Keating, formerly of the Cincinnati Enquirer, and Smith, who has shot for National Geographic Traveler, Smithsonian Magazine, and more.
The show takes visitors to unique arenas, such as Shelbyville's domed William Garrett Memorial Gymnasium and Anderson's mammoth Wigwam, as well as more modest quarters, including a hauntingly empty shot of the Economy High School gym. There's familiar poetry in the scuffed floors, the weathered backboards, the non-stereotypical cheerleaders, and the collective gasp of sideline fans, coaches and players.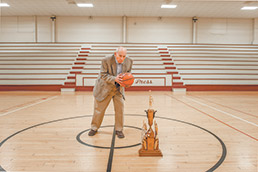 (Photo courtesy of Chris Smith)
A rare exterior in the collection comes from Holton, where all that stands after a 2012 tornado is a busted backboard and hoop. And it's hard not to be inspired by the behind-the-bleachers huddle of the Southwestern (Shelbyville) Lady Eagles as they head into the 2014 Regionals.
You can predict what some of the shots will be—the foregrounded Wilson roundball casting a shadow from the high-window light, seniors evocatively pondering past glories, kids dreaming of glory as they release a ball toward the net.
But to avoid such cliches would be foolish. The ritual of Indiana basketball can't be separated from such images—images that existed before "Hoosiers" but were burned into the national consciousness thanks to that 1986 classic. Even the film's device of using faded photographs within a more contemporary context is employed here, notably in an image of the 1950 State Champion Madison Dubs in a framed shot sitting next to the menu at Datillo's Fruit Market.
What's missing? A pickup game in the parking lot might have been nice.
While you are in the building, consider a first-floor stop at the Historical Society's latest "You Are There" exhibit, "Eli Lilly at the Beginning," offering an interactive trip into the colonel's Pearl Street lab. Artifacts on loan from Eli Lilly and Co. provide context.•
__________
This column appears weekly. Send information on upcoming arts and entertainment events to lharry@ibj.com.
Please enable JavaScript to view this content.