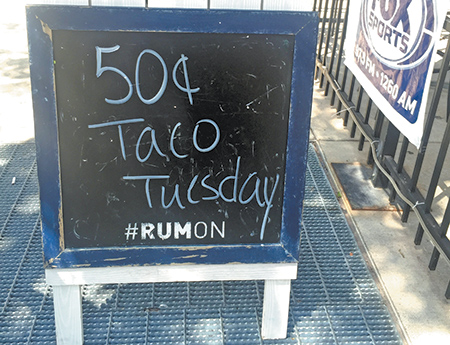 Eating lunch out can lighten your wallet quickly—but it doesn't have to. I went on a hunt for seven lunches downtown for under $7.
Before getting into the list, let me explain the rules I followed. My meals had to be under $7, before tax and tip. Restaurants had to be within reasonable walking distance of IBJ's office at Washington and Pennsylvania streets. Discounts were allowed as long as they are available on an ongoing basis.
36 Degrees Bar
36 E. Washington St.
(317) 917-3218
It would be hard to find a cheaper deal downtown than this watering hole where the daily special is graffiti-ed onto the front window every day.
On Tuesday, the bar offers 50-cent tacos, with a minimum order of four, which is more than enough food. You have your choice of beef or chicken in a hard shell, but you can get soft shells for an additional charge.
I got two beef and two chicken tacos and enjoyed both. They are basic—just lettuce, tomato and meat—but with a total bill of $2.18 AFTER tax, there's plenty of room for a beverage in the budget. Even after leaving a nice tip, this is as affordable a lunch out as you'll find anywhere.
36 Degrees offers recurring daily lunch specials the rest of the week as well, including $5 burgers on Mondays and $7 fish on Fridays.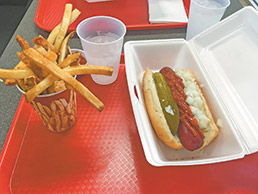 King David Dogs Build Your Own Dog
King David Dogs
135 N. Pennsylvania St.
www.kingdaviddogs.com, (317) 632-3647
King David Dogs is a local favorite that offers several great lunch options at low prices every day.
I got the Build Your Own Dog with ketchup, onion and pickle, along with a regular order of fries. I stuck with water for a pre-tax total of $5.78. I could have added a drink for only $1 more by making it a combo.
Specialty dogs cost 80 cents to $1.50 more than the basic dog. Even with that extra cost, King David provides a delicious lunch at a reasonable price.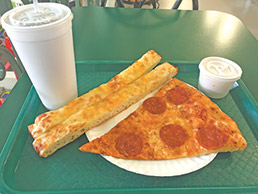 Mauricio's slice of pepperoni
Mauricio's Pizzeria
City Market
(317) 423-2920
Mauricio's—one of a number of options in City Market—offers a fairly big lunch for a low price. For $6.75 (before tax), you get a slice of New York-style one-topping pizza, two breadsticks with dipping sauce and a soft drink. You also have the option of a side salad instead of breadsticks.
I got a slice of pepperoni and was pleasantly surprised by how good it was. With two huge, cheesy breadsticks as well, it was more than enough food for lunch.
Educated Sandwich
150 W. Market St.
(317) 916-9484
As you might have guessed from the name, Educated Sandwich offers a large variety of, well, sandwiches—and it's in the building that houses the Indiana State Teachers Association. It is sort of a non-chain version of Subway, as it has sandwiches on the menu, but you can customize your own if you'd like.
I had a simple grilled cheese sandwich on rye bread, a bag of chips and a cup of water, which came to $5.80 before tax. The sandwich was good (it's pretty hard to mess up grilled cheese) and, with a bag of chips, it was enough to fill me up. Some of the sandwiches are a little pricier, but it is definitely a reasonably priced option downtown.
Steak n Shake
101 W. Maryland St.
www.steaknshake.com, (317) 634-8703
Steak n Shake has made cheap-meal deals the focus of its marketing pitch, which puts it in compeititon with fast-food places. But here, you're waited on by servers and there are more options.
With 24 meals under $4, Steak n Shake is certainly worthy of making this list.
I got the original Double Steakburger with Fries meal and found the burger better than most fast-food versions. I stuck with water, so my bill came to just $3.99 before tax and tip.
And, make sure to check out Steak n Shake's website for coupons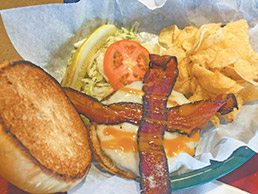 Tow Yard Brewing Co. Woodshed Burger
Tow Yard Brewing Co.
501 S. Madison Ave.
towyardbrewing.com, (317) 638-9273
Every Wednesday, all burgers at this brew pub are half price ($5 instead of the usual $10). Your choice of kettle chips, loaded potato salad or coleslaw is included.
I ordered the Woodshed Burger, which comes with bacon, tangy barbecue sauce and smoked, white cheddar cheese with a side of kettle chips. I enjoyed the burger and, by sticking with water, my bill was just $5 before tax and tip—one of the better deals anywhere.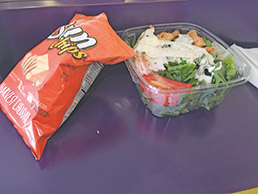 Stars Sandwich Market Chicken Caesar Salad
Stars Sandwich Market
116 N. Delaware St.
starssandwichmarket.com, (317) 822-9999
Stars, across the street from City Market, makes its sandwiches and salads fresh each morning and packaged so you can easily grab and go, though there is space to sit and eat if you prefer.
I got a Chicken Caesar Salad with Caesar dressing and a bag of chips, which came to $6.83 before tax.
The salad had a generous portion of chicken, so it was more than enough to fill me up. With sandwich options ranging from simple Peanut Butter and Jelly to assorted Chicken, Roast Beef, and Turkey, you have a lot of choice without going broke.•
Please enable JavaScript to view this content.