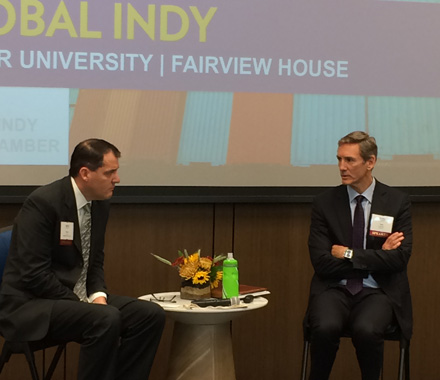 Cummins Inc. CEO Tom Linebarger points to the company's Seymour plant where 800 employees produce high-speed diesel engines—70 percent of which are exported globally—as a key reason he believes free trade is good for the Hoosier worker.
That's a message he said has been lost in this year's heated political rhetoric about trade.
Talking Monday morning at Butler University to a group of about 50 local proponents of the Trans-Pacific Partnership free trade deal, which would formalize trade relations between the United States and 11 Pacific Rim countries, Linebarger said companies and their employees have to do a better job of advocating for trade deals that are critical for American companies' growth.
"Eight hundred people [in Seymour] depend on trade; otherwise, that engine doesn't make it," Linebarger said. "International trade is fundamental to Cummins' well-being. I just think the evidence is overwhelming that, when we have free trade agreements, U.S. companies do well. We need growth, or we die."
Time is running out for this Congress to pass the TPP, and the Obama administration is hoping to make that happen in the lame-duck session between the presidential election and early January when the new Congress takes over. The dozen countries involved in the deal, including the United States, have signed the deal but Congress still needs to act.
U.S. Assistant Secretary of Commerce Steve Haro, who was in Indianapolis on Monday to speak with the group brought together by Indy Chamber, said he was traveling all over the country to encourage businesses advocating for TPP to be more vocal. He said he believes the next 60 or so days are critical to urge Congress to pass the deal.
"My guess is, the people who will be coming into Congress [next year] are not necessarily going to be anxious or excited to get TPP done," Haro said. "It's been demagogued in a way that [trade] is almost a four-letter word. There are people just itching to kill this trade pact for any number of reasons."
Indiana in particular has been a hotbed of conversation this year about trade and globalization. Political candidates on both sides of the aisle have lambasted one another for their support of trade deals, and pointed to Carrier Corp.'s decision to move its Indianapolis manufacturing operations to Mexico as an example of how trade is harmful.
But Haro said critics of Carrier's decision are getting the issue muddled. He said most of the job losses frequently associated with free trade have come from "globalization, automation and digitization" and "those are going to happen whether we trade with countries or not, so we might as well get on a level playing field.
"You can't put that genie back in the bottle," Haro said.
Linebarger said that, while he appreciates Carrier's decision is "disturbing for [affected workers], you don't hear about the 20 other stories where we added jobs because of NAFTA," referring to the North American Free Trade Agreement, which formalized trade relationships with Mexico and Canada, a frequent target of Republican presidential nominee Donald Trump on the campaign trail.
It's unclear how exactly the TPP would impact Indiana, but the International Trade Administration has said that "Indiana's exports could benefit from new market access as a result of Brunei, Japan, Malaysia, New Zealand and Vietnam eliminating their tariffs as part of the TPP."
IBJ previously reported that, according to ITA, the state exported $19.3 billion on average from 2012 to 2014 annually to TPP markets. And exports to those markets increased 7 percent from 2012 to 2014.
Haro said 95 percent of the world's consumers are outside of the United States, and that U.S. companies should get the chance to "find new customers and new markets."
"There is a whole world out there," Haro said. "Why would we not want to sell to them?"
Please enable JavaScript to view this content.