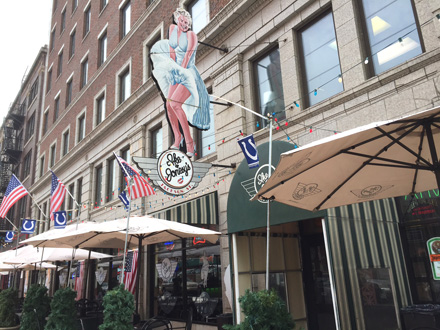 A local developer is in discussions to convert the One Jackson Square building adjacent to Union Station downtown into a 110-room boutique hotel—potentially a Canopy by Hilton—and restore the structure to its original lodging use.
Sun Development & Management Corp. has purchased the building at 233 McCrea St. between South Illinois and Meridian streets from Maryland-based Choice Hotels International.
Choice paid $3.1 million for One Jackson Place in January, according to county assessor records, and also bought nearby land at the northwest corner of South Meridian Street and Jackson Place.
That's where Sun originally planned to develop a Cambria Hotel & Suites for Choice Hotels. Sun still is moving ahead with the Cambria project and bought One Jackson Square and the surface lot from Choice in a package deal, Sun CEO Bharat Patel told IBJ.
Choice sold the surface lot to Sun with the caveat that the hotel be a Cambria, Patel said. He declined to reveal the purchase price for the package of properties.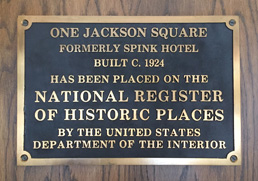 One Jackson Square has its roots in the lodging industry. (IBJ Photo/Mason King)
One Jackson Square was built in 1924 and originally housed the Spink Hotel. The building continued to let rooms, under various owners, until the 1980s.
"We're going to open all the windows that were covered up and restore it to its original luster," Patel said. "It will be a boutique hotel with a historical flavor."
Sun's website shows the building as a Canopy by Hilton, but a deal has yet to be finalized. Patel has applied for the brand but may pursue other opportunities, he said.
Sun hopes to begin renovating the building in the fall.   
Choice Hotels bought the building from an entity operated by Bob Borns, the real estate developer best known for redeveloping downtown's Union Station in the 1980s.
One Jackson Square houses restaurant Ike & Jonesy's on the ground floor and office tenants above, such as Borns Management Corp., Indiana Family Health Council Inc. and Loftus Engineering Inc. It was not immediately clear how the office tenants would transition out of the building.
The fate of Ike & Jonesy's has yet to be determined. Owner Rick Eichholtz on Monday declined to discuss the situation until he knows his future. The bar, packed with memorabilia and featuring an iconic Marilyn Monroe cutout above its entrance, has been at the location since 1983.
Patel described conversations with Eichholtz as friendly and said the hotel's lobby could be on the second floor to accommodate Ike & Jonesy's. Eichholtz has a long-term lease.
Sun's development of a Canopy by Hilton finally would give the brand a downtown presence after Hilton had planned to incorporate it into Keystone Corp.'s redevelopment of the historic Illinois Building at the corner of Illinois and Market streets.
Hilton said in January that Keystone backed out of the deal. The Illinois Building, where Hyde Park Prime Steakhouse opened on Thursday, still is without a hotel anchor.
Sun is developing an aggressive slate of projects downtown. Its 150-room Cambria project should start in the spring, Patel said. One of its more unusual projects involves the former Bethel African Methodist Church at 414 W. Vermont St. on downtown's west side.
Sun's plans for the Bethel site call for two hotels—one a redevelopment of the historic church building (built in 1869) and the other to be built next to it on a lot fronting West Street. The second hotel would include three levels of parking and roughly 10,000 square feet of retail space.
Work should begin next year, Patel said.
Please enable JavaScript to view this content.