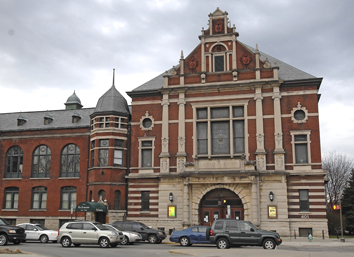 A downtown Indianapolis landmark designed by the grandfather of "Slaughterhouse-Five" author Kurt Vonnegut has been named a national historic landmark.
The Athenaeum was one of 10 landmarks added Wednesday to the federal government's National Historic Landmarks Program that recognizes historic properties of exceptional value and promotes preservation efforts.
Located at 407 E. Michigan St. near Massachusetts Avenue, the Athenaeum was designed by Bernard Vonnegut, a second-generation German-American, and was built in phases between 1893 and 1898. The German Renaissance Revival building was once one of the largest social clubhouses in the nation with an auditorium, gym, and a restaurant.
That restaurant, the Rathskeller, is the oldest restaurant in Indianapolis.
The Athenaeum was also the home of the Normal College of the North American Gymnastic Union for 63 years and was the nation's oldest, continuously active school of physical education.
The Athenaeum Foundation received a $225,000 gift from local philanthropists Frank and Katrina Basile to help renovate the building's 350-seat theater, which was renamed to recognize the contribution.
Please enable JavaScript to view this content.