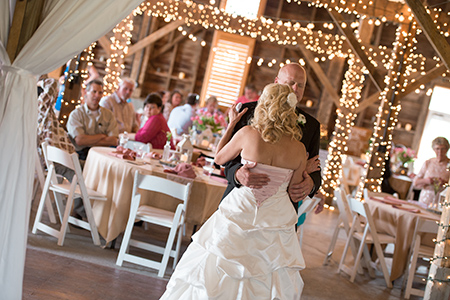 Mooove over, cows.
Step aside, chicks.
Here comes the bride!
And that's not all.
Barnyard animals are being herded aside at Indiana barns by matrimonial couples, re-enactment festivals and corporate shindigs.
Barns are the hottest trend in gathering venues in the Midwest and other pockets of the country, including California's wine country, Ohio, Pennsylvania, Texas, Wisconsin and upstate New York.
A decade ago, few, if any, barns in central Indiana hosted weddings. Now, more than 15 do. Some are booked on Saturdays for two years out.
As demand has risen, the barn venue has matured. The trend started in the mid 2000s, with farmers trucking in a couple of porta-pottys and swinging the dusty barn doors open to a wedding or other gathering for a few hundred dollars.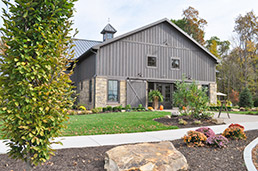 Amanda Cottingham opened the nearly 10,000-square-foot Barn at Bay Horse Inn on Sept. 16 in Johnson County and already has booked 80 events. (Photo courtesy of Barn at Bay Horse Inn)
Now, event-center operators are pouring hundreds—in some cases millions—of dollars into renovations or built-from-scratch Green Acres palaces. Indoor bathrooms, insulated walls, and full electrical and heating and air-conditioning are the norm. Floors are more often polished and painted concrete than crusty and dusty dirt or stone.
And as the crystal chandeliers and surround-sound systems have gone up in the barns, so has the price to rent them.
Event barn rental in Indiana can run from as much as $2,500 for a weekday to $8,000 or so for a Saturday. Food, beverage and entertainment are extra. Barns in New York and California rent for $12,000-plus per day.
Yet more and more clients are willing to pay the price.
The Knot, one of the top wedding research websites, surveyed 14,000 brides married in 2015 and found 6 percent had a barn or farm wedding and/or reception. In central Indiana, that number hit 10 percent, according to The Knot—triple the barn weddings of a decade ago.
WRTV-TV Channel 6 reporter Rafael Sanchez was a guest speaker at the grand opening of the Barn at Bay Horse Inn in September. (Photo courtesy of Barn at Bay Horse Inn)
The movement appears to be part of a larger trend toward casual weddings. In The Knot survey, 17 percent of couples said they had a casual wedding. In 2009, that figure was 12 percent.
"The days of the traditional black-tie wedding may be coming to an end," said local event planner Debbie Locklear. "People don't want cookie-cutter. They want something different. They want something personalized with a destination feel and the barn wedding fits into all of that."
They also "love the earthy barn look juxtapositioned against the chandelier and the glamorous wedding dress," said Darinda Dragon, owner of the Avon Wedding & Event Barn.
More than weddings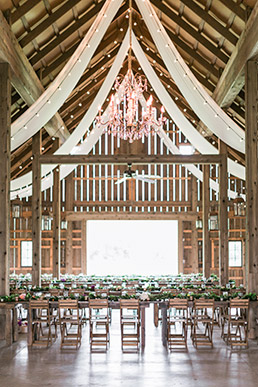 The Barn at Kennedy Farm is a 5,000-square-foot event facility in Lizton that owner Kim Svoma opened in 2015. It rents for $6,500 during peak periods. She already has deposits for 101 events in 2017 and 50 in 2018. (Photo courtesy of The Barn at Kennedy Farm)
But today's barn lovers include more than starry-eyed bridal couples. Increasingly, barn-venue operators said, they're hosting everything from corporate outings to fundraisers. Several area barns are hosting political events this fall.
Officials in Hendricks County three years ago moved the 182-year-old Cartlidge Barn to the Hendricks County Fairgrounds, where it has hosted re-enactment groups, festivals and corporate outings—as well as weddings.
"We began to realize in 2005 that people were seeking alternative gathering places and they [gravitate] toward barns," said Jamie Bohler Smith, Visit Hendricks County executive director. "They love the laid-back country feel of it."
Andrea Sutherland, executive director of The Social of Greenwood, a Johnson County senior citizens center and service group, said she was looking for something "rustic and glamorous." She landed at the Barn at Bay Horse Inn in Johnson County.
"We held our Diamonds and Denim fundraiser there last month and we've already booked for next year," Sutherland said. "We didn't just want a conference center or hall. We wanted an experience."
Sutherland said some of the organization's members were "pretty skeptical" about the location.
"They ended up being blown away," she said. "It had this great barn feel with the rafters and exposed wood, but that was matched with an elegance that made it truly memorable."
The operators of the Barn at Bay Horse Inn, which is touted as the state's largest event barn, said its business is nearly one-fourth non-wedding.
Indiana barn venue operators cite a combination of factors for the trend. Some say it's an extension of the farm-to-table food movement. Others say it's a return to roots. Still others say it's the hipness of country-chic.
Kim Svoma, owner of The Barn at Kennedy Farm in Lizton, said the movement is a backlash from the 1980s mind-set when everything "was about being mega and at the mall."
"Today, people like things that are simple, but elegant and authentic," said Svoma, who opened her 5,000-square-foot barn in 2015. "There's a comfort a barn provides [that] a banquet hall does not."
She said the key to a successful event barn "is to find the sweet spot where you marry the formal and the rustic."
Whatever the spark for the craze, a key trigger fueled it.
Seven of seven event barn operators interviewed for this story said pictorial social-sharing platform Pinterest fanned the flame.
"It's like the old shampoo commercial—they told two friends and they told two friends and so on and so on," said Locklear, president of Meeting Services Unlimited. "People were enraptured with the look of the barn wedding: the iconic barn doors, big wooden beams and tall ceilings."
Despite the fact that most millennials keep their eyes and ears glued to an electronic device, Svoma finds an increasing number seek privacy and seclusion for their events.
"It's a contrast to their everyday lives," she said.
A bag of Skittles
Local barn event center operators report that up to 20 percent of their business is out-of-state clients—from places as widespread as Chicago, Virginia, Seattle, Washington D.C., and even overseas—like Brazil and France.
And the demographic of barn lovers defies definition.
"The people that come to our barn are like a bag of Skittles," Svoma said. "It's a mixture. They come from all walks of life."
This year, she hosted a wedding for one of America's Top Models one weekend and the next an outdoors-oriented couple that loved hunting and fishing.
And the mixture continues to pour in. She said her barn has deposits for 101 events in 2017 and another 50 in 2018. Her facility accommodates 250 people and rents for $6,500 during peak times.
Dragon said her 4,000-square-fooot venue is two-thirds booked for 2017, with the vast majority of Saturdays filled. She also has numerous Saturdays booked in 2018.
Amanda Cottingham opened the nearly 10,000-square-foot Barn at Bay Horse Inn Sept. 16 and already has booked 80 events.
"My Saturdays are completely booked through November 2017," she said.
And despite her barn's location 15 miles south of downtown Indianapolis, at State Road 135 and Stones Crossing Road, Cottingham said the majority of her clients are from Hamilton and Boone counties. The venue also brings in a fair amount of business from Chicago, she said.
Down-home problems
It isn't all sunshine and daffodils down on the farm. Running a barn event center comes with no shortage of challenges.
It "consumes your life," Dragon said. "You have to be ready for that."
The first issue is zoning. Many barns are in agricultural areas and need variances to host for-profit events. Some barn operators deal with irate neighbors who complain about the traffic, crowds and noise.
"We moved out here for the rural nature, the quiet aspects of it, the open space," Tom Windisch, who lives next to an event barn in Minnesota, told the New York Times for a recent article. "So do I want a band cranking music out of that building several times a week? No, I do not. Anybody would have reacted the way we did."
Most Indiana barn owners reported a relatively peaceful coexistence with their neighbors.
Karen Hawkins, owner of The Barn at Hawks Point in Anderson, made a pre-emptive move to head off complaints when she opened her barn in 2015. She got her barnyard zoned as a private park.
"That means we don't play any music after 10 p.m. and everyone is off the site by 11 p.m.," said Hawkins, a former WRTV-TV Channel 6 newscaster. "We need to be respectful of the community and be a good neighbor."
Hawkins also employs an off-duty Anderson police officer to be on site every time alcohol is served.
"We haven't had any problems," Hawkins said. "And I want to keep it that way. We want to make sure everyone has a good time and stays safe."
Hawkins isn't alone. Most Indiana event barns employ at least one security guard or off-duty police officer at every event.
Big investments
The amenities event barns offer vary. While some simply offer a barn and barnyard, the Barn at Bay Horse Inn has a liquor license and operates a "saloon" (that can accommodate 65 people) during events. Many barns have bride-and-groom quarters. The Bay Horse Inn has a 1,000-square-foot log cabin that sleeps eight.
Svoma, owner of the 40-acre Barn at Kennedy Farm, plans to build a chapel late next year, a train station that will include a honeymoon suite, and a covered bridge by 2020. She said she has already invested $700,000 on the barn alone and another $300,000 on the land and other improvements.
Owners of the Barn at Bay Horse Inn have more than $1 million invested. No Indiana barn owner IBJ talked to had spent less than $250,000 on their project, and most had invested $500,000 or more.
Many central Indiana event barns are brand-new facilities, built for their current purpose. Not so the Avon Wedding & Event Barn—which gives it two advantages, owner Darinda Dragon said.
"I think it makes it more authentic," she said of her Amish-built barn, which once housed Clydesdale horses and dairy cattle.
Not having to build from the ground up also made it a bit easier to get in the business. So far, she's spent $250,000 on renovating her barn, which holds 250 people. Dragon, who hosted her first wedding in 2010, is something of the old barn guard, but she realizes, with all the competition springing up, she might have to invest more.
"We're constantly thinking about improvements," she said. "One thing we're considering is cabins."
But how much debt is too much?
"A six- or seven-figure investment is a sizable debt load for a small business," said Amanda Cecil, IUPUI associate professor and chairwoman of the Department of Tourism, Conventions, and Event Management. "I suppose the worry is that it's a trend that has risen quickly and it could fade just as quickly.
"But, boy is it big right now," she said. "So I can see why people are jumping in this business. But is there risk? Sure there is."
Are the barns profitable?
"I'm getting there," Svoma said. "And I don't have much debt compared to the amount of equity I have."
Svoma, who hosted 100 events last year, isn't worried. She now laughs at her modest initial goals.
"I just built this place to give people a place to go to have a good time. All I was hoping to make was $30,000 a year," she said. "I'm making waaaaay more than that. But the pressure to be on your A game is continual."
Dragon is as content as a farmer with a silo full of grain.
"There are lots and lots of brides and only 40 Saturdays a year you can have a wedding [outside] in Indiana," Dragon said. "So there's plenty for everyone to make hay."•
Please enable JavaScript to view this content.